Thank you for joining the Ross Republic podcast. In our twentieth episode, host Adrian Klee is joined by Jonathan Sanders, co-founder and COO of Juni, to discuss how the marketing & e-commerce ecosystem can benefit from tailor-made banking services.
Listen now on Spotify / Apple Podcast / Google Podcast
Jonathan Sanders is the COO and Co-Founder of Juni, a vertical neobank for e-commerce entrepreneurs. Prior to starting Juni in 2020 he was Head of Payments at fintech unicorn Pleo, which offers expense management solutions to small businesses. Previously, Jonathan worked at Bain & Co and was a hedge fund manager at Credit Suisse Alternative Investments. Similarly to Juni's two other co-founders, Samir and Anders, he gained a unique understanding of how e-commerce businesses run their daily business – and what kind of shortcomings they have to deal with when it comes to accessing banking services.
A new ecosystem of services is being built to cater to Europe's growing e-commerce industry
Europe's total addressable market of small and medium-size enterprises (SMEs) is so large, it almost does not merit discussion: As the economic engine of Europe, SMEs make up 98.9% of all European Union's enterprises, according to Eurostat. Furthermore, they contribute to 56% of total value added within the EU and account for 67% of all persons employed. Overall, there are over 35 million solo-entrepreneurs, micro-SMEs and small-SMEs in Europe: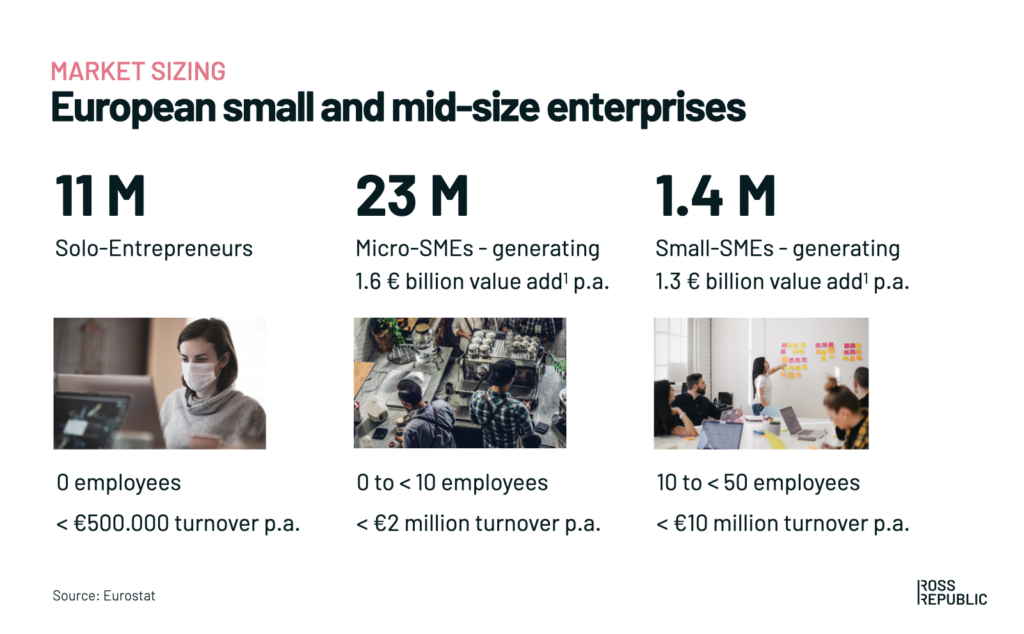 SMEs represent a significant market opportunity
Next to SMEs being a growth driver of the European economy, the e-commerce market is expanding significantly as well. Largely as a result of the pandemic, retail e-commerce sales in Western Europe jumped by 26.3% in 2020, to €481.54 billion ($539.18 billion), according to eMarketer: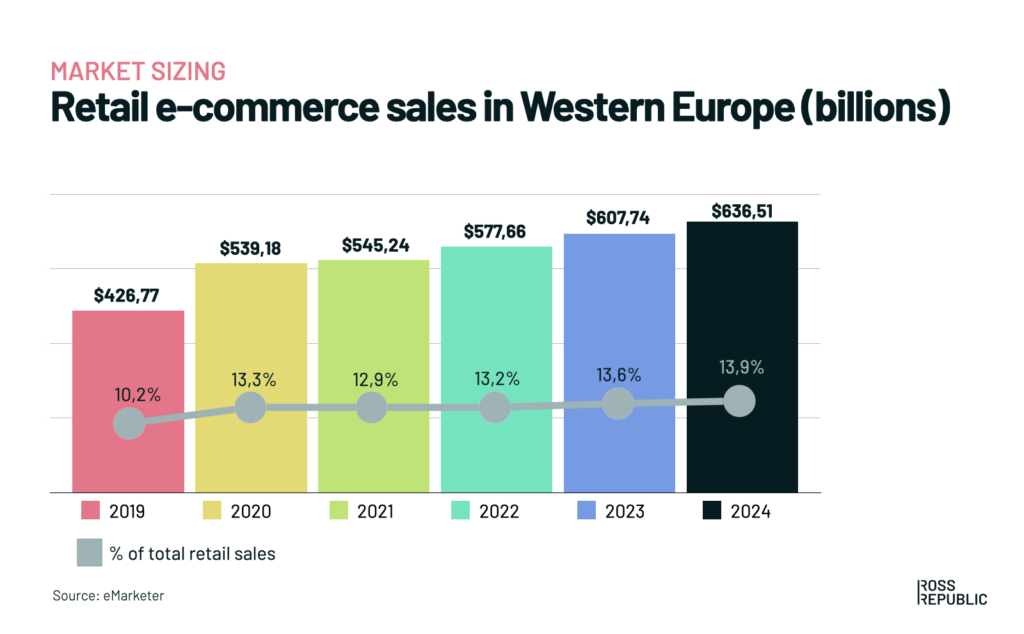 EU retail e-commerce sales. Source: Emarketer
Juni is riding on two big waves: small business and e-commerce. Being positioned as the banking platform "tailor made for the marketing & e-commerce ecosystem", Juni caters to SMEs that seek a banking alternative that is just as globally scalable and digitally native as the rest of the digital services that comprise the tech stack of a modern digital business, such as Google (customer acquisition), Shopify (online shop) or Stripe (payments). SMEs that sell services or goods online are usually stuck with a traditional bank account by local incumbents that neither offers products tailored for e-commerce sellers, such as direct integrations with shop systems,  merchant loans or credit cards with high limits, nor offers a customer service that understands their unique needs and pain points. Hence, Juni is filling the banking and financing gap within the digital service stack of e-commerce sellers and even goes beyond that by actually integrating with other core services, such as accounting and online shop platforms, to become the system of intelligence that e-commerce sellers can tap into to better analyse and steer business performance.
Given the large size of the European SME market segment, a first wave of fintech start-ups has been trying to grab market shares from incumbent banks over the past ten years. Our open SME fintech database provides an overview of these new digital SME-focused banks and payment providers, such as Holvi, Tide, or Revolut Business. However, there's yet not one large pan-European digital bank focusing mostly on SMEs, in terms of customer numbers or revenue, in contrast to consumer banking. One reason why scaling up such propositions might be the large fragmentation of SMEs coupled with segment-specific banking needs, resulting in high degrees of segment-specific product optimisation to achieve product-market-fit (PMF). On top of that, SME bank accounts are very sticky. Once they are set up and connected to accounting systems, it's a challenge to convince a CFO to switch.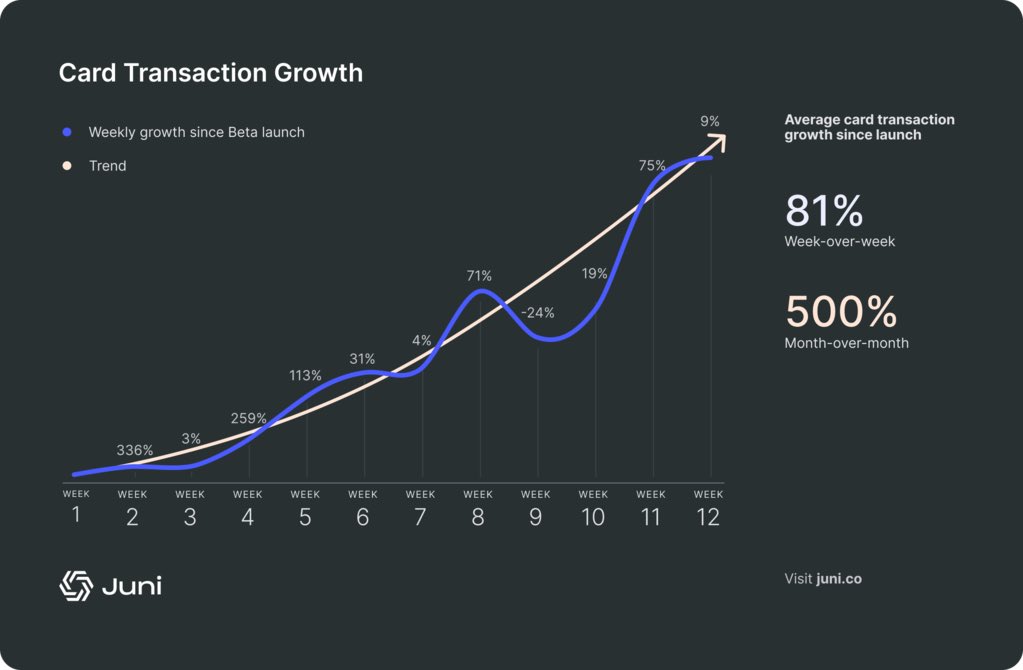 Juni's card transaction growth by early adopters. Source: Juni
As the needs and pain points assimilate across e-commerce sellers, Juni is able to capture a large enough horizontal market across Europe while being able to continue to optimise the product for the target segment of e-commerce sellers – a promising strategy that is likely to result in customer acquisition synergies and a very sticky banking proposition. Juni's current NPS of over 70 by early adopters  and average card transaction growth of around 500% month on month proves this point.
Building the perfect bank for anyone in digital marketing, dropshipping and e-commerce
Together with Jonathan we discussed the proposition of Juni a bit more in detail. Juni targets businesses that sell products or services online and acquire their customers mostly online. Currently, these businesses log into several applications to collect their balances and reconcile payments. Hence, at the core Juni provides an interface to all ancillary apps and tools that e-commerce sellers use in order to display a birds-eye view on the numbers. By having access to e-commerce, marketing, 3rd party bank account, payments and accounting data, Juni offers very helpful business intelligence dashboards displaying key accounts receivable and payable data and turns them into metrics that matter to e-commerce businesses, such as return on ad spend. Hence, I see the key value proposition of Juni as a "single source of truth" for users to monitor how their business is doing in real-time.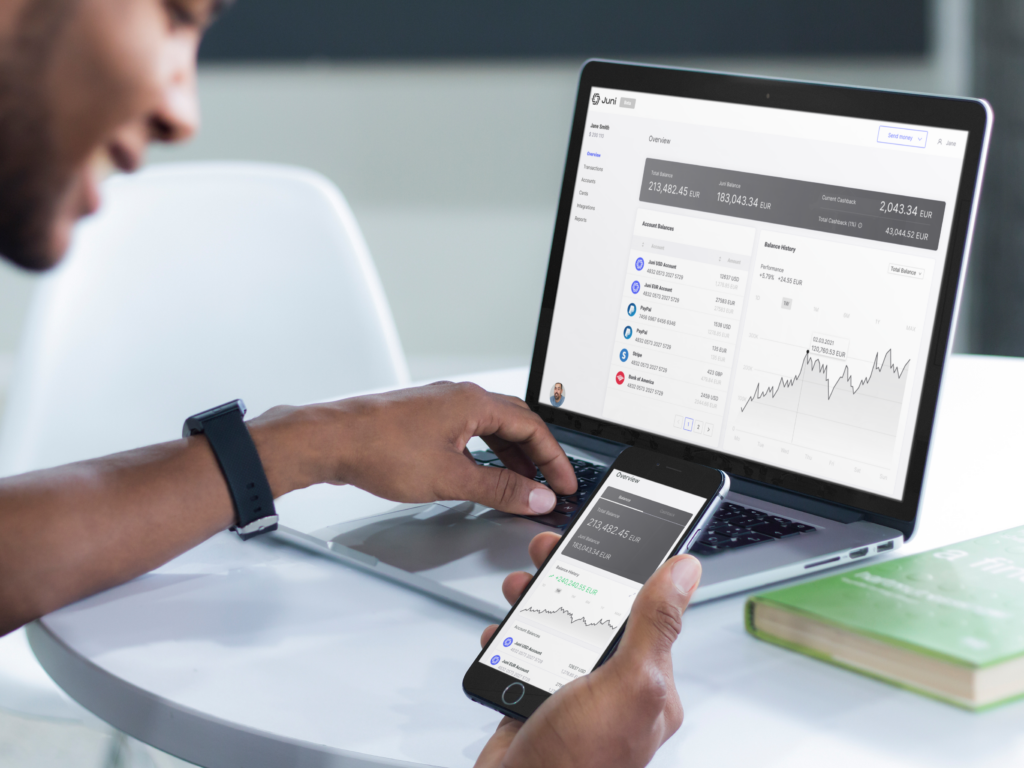 Juni is built specifically for companies selling online. Source: Juni
The banking products that Juni has integrated below the line are enablers of a more frictionless customer journey. For instance, once an ad campaign turns out to be highly effective, users can boost it via Juni's platinum cards, which provide 1% cash back on all spend, can be used physically and virtually, and most importantly come with unlimited daily spend limits, available in EUR, GBP, and USD. As Juni has access to cashflow data of each user, it's only a logical next step to utilise it for underwriting tailored credit products, such as overdraft limits, merchant loans or invoice financing. Juni has already announced to be currently developing new financing products.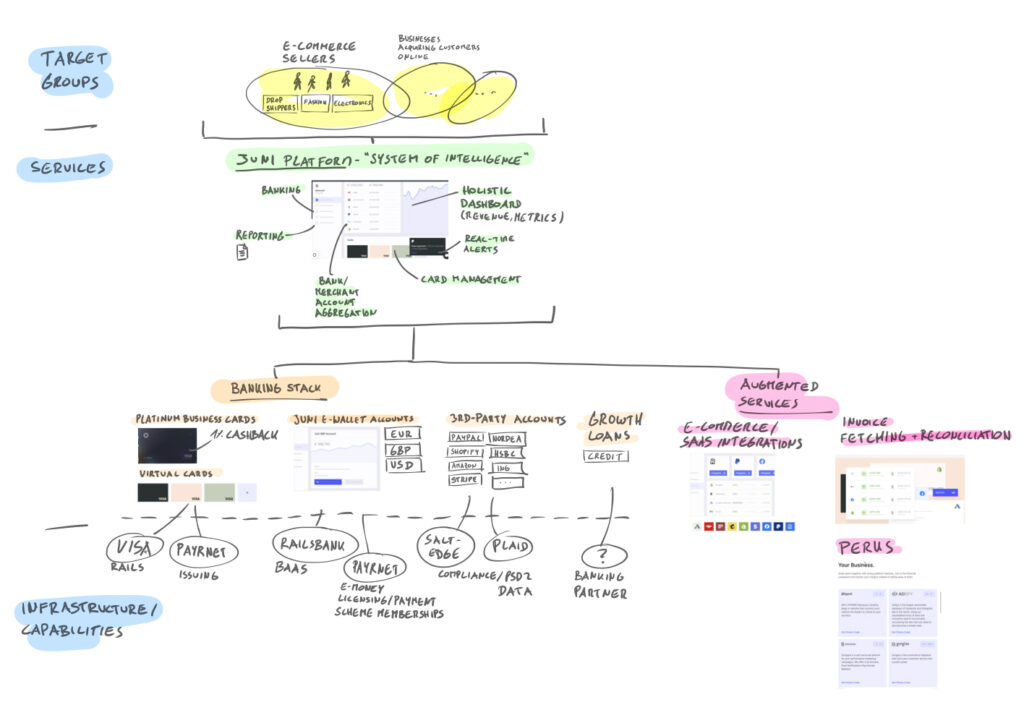 Schematic of Juni's proposition. Source: Ross Republic
The next wave of fintech services for SMEs either moves up or down the stack. Juni is proving our hypothesis by creating a new type of service category that merges SME banking and SaaS elements to offer a hugely innovative fintech service tailored to e-commerce sellers. Instead of offering plain vanilla digital business banking services, as many first wave fintech companies did, Juni maximises the value of bank accounts, payments, cards and credit facilities by connecting them deeply to the needs and customer journeys of their target group, allowing to find PMF quickly and scale it globally.
We at Ross Republic are excited to see how Juni's proposition will further develop and get rolled out across Europe. Today, the company announced a Series-A follow-on round of $52m led by EQT Ventures, with participation from FJ labs and other existing investors, such as Felix Capital, to add to the $21M already raised from their Series-A round in late June this year, bringing Juni's Series A round to a total of $73m. Shout out to Joseph from Felix Capital who brought Juni to our attention!
Whether you're a bank, VC, software company or fintech entrepreneur looking for new growth opportunities in SME banking, let's have a chat. We have recently delivered a series of work in the domain of embedded finance for small businesses and we'd be delighted to discuss how we can take your SME software or banking business to the next level.