Thank you for joining the Ross Republic podcast. In our twenty-fifth episode, host Adrian Klee is joined by Anita Koimur, Co-founder & COO at LiveFlow, to investigate how the convergence of APIs and fintech revolutionises modern finance tools.
Listen now on Spotify / Apple Podcasts
Behind every business, there's an array of spreadsheets being used for project management, customer relationship management, inventory tracking or financial reporting. Most often it's not just any spreadsheet software, but Microsoft Excel. After being launched in 1985, Excel managed to defend its market dominance as the go-to general purpose spreadsheet tool and still stands at an estimated market share of around 70 to 80 percent. In finance, the market share of Excel is likely much higher.
Given its success, numerous competitors have been inspired both by Excel's multi-purpose functionality as a spreadsheet tool and its smart product rationale of providing a powerful platform that is useful for a large user audience, including non-technical ones, while still allowing to go really deep into the specific use cases that power users need. Consequently, there's a wave of software tools that aim to un-bundle Excel by creating a product that better fulfills the needs of a specific user segment, relieving them from bending Excel to their use case, as in the case of Salesforce, Asana or QuickBooks. The opportunity to get inspired by how specific target groups hack around Excel in order to build vertical software is huge, as showcased by Ross Simmonds in 2019: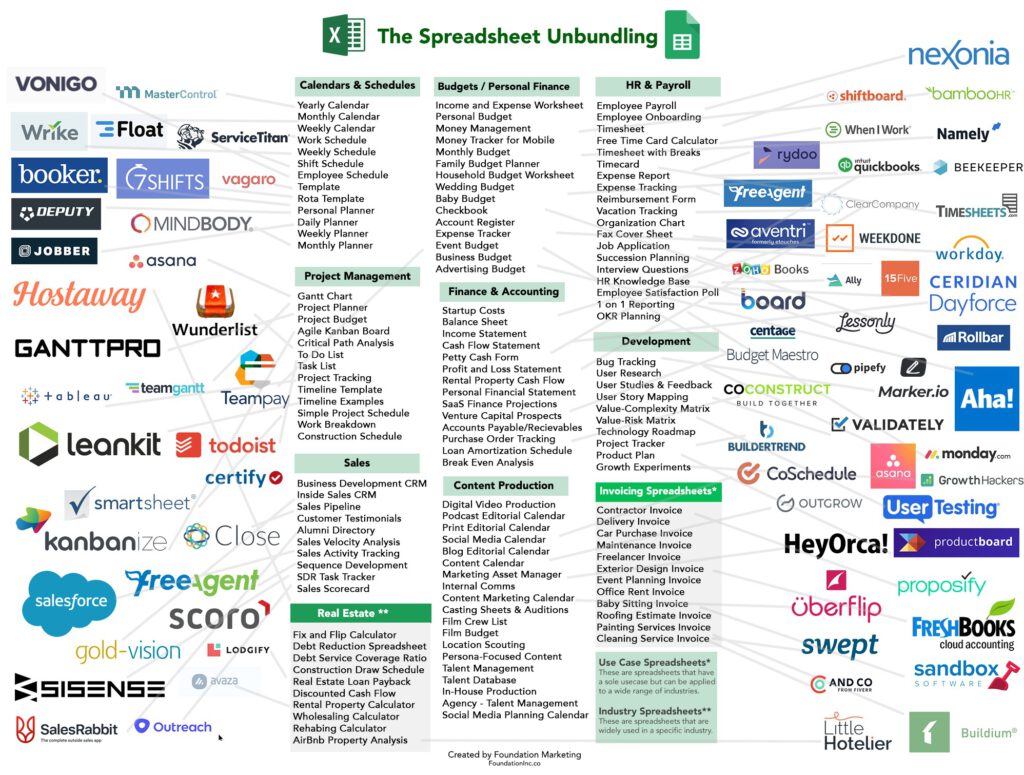 Spreadsheet un-bundling by Ross Simmonds (2019)
One vertical that usually consists of Excel power users is finance teams, CFOs and accountants. While Excel is great for planning and forecasting, it yet lacks the real-time and data-driven features that many modern software applications offer today. For example, if you're running finances at a fast-growing e-commerce start-up, you'll have to get your financial data manually from banks, payment platforms, expense and accounting tools. This approach requires huge discipline in managing and updating several Excel files and versions.
There's a better way and it's called LiveFlow. The start-up has just came out of the YCW21 batch and today announced its $3.5 million seed round led by Moonfire Ventures. It's basically a remix of a bank account, Zapier and Excel, as the product allows users to sync real-time data from their accounting services, banks, and payment platforms and plug them into tailor made reports, such as a consolidated P&L. Similarly to our analysis of Airbank, it fits our hypothesis that there's significant value to be unlocked by moving beyond business banking pure plays and plugging into transaction data for better business analytics. Businesses and start-ups don't need more neobanks, but tools that let them consolidate and make sense of underlying data flows in order to steer their business more effectively.
One interesting vertical target group that LiveFlow has uncovered are fractional accountants. Many early-stage companies don't need a full-time CFO yet, so they hire them on a freelance basis. Imagine being responsible for the finances of 9 companies, managing and exchanging their financial data via Excel files. LiveFlow solves a huge pain point by linking to all clients' QuickBooks accounts and importing their financial reports.
LiveFlow's proposition consequently centers around data aggregation, creating real-time financial statements (which importantly don't break after updating cells) and the multi-user collaboration features that are table-stakes in the current remote working environment: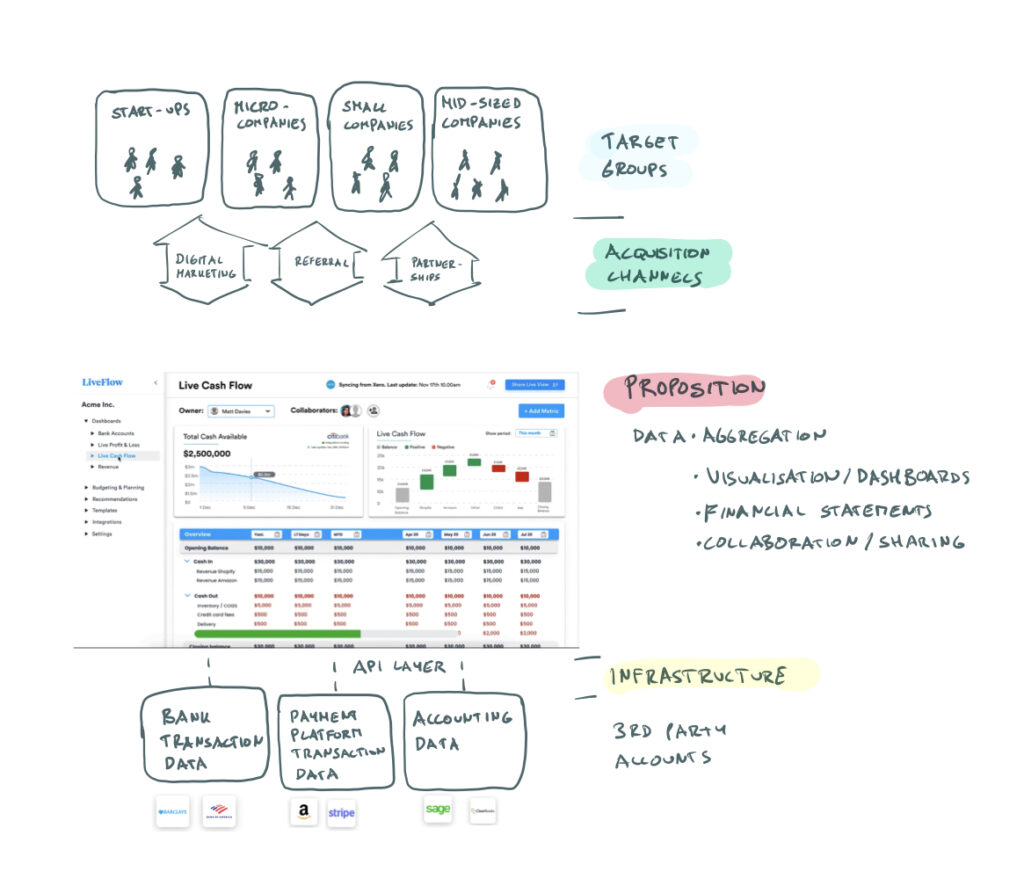 Schematic of LifeFlow. Source: RR
A competitive advantage of LiveFlow are the custom-built integrations into accounting tools. So instead of just offering a modern front-end that visualises cashflows and accounts, LiveFlow can better control the data feeds and structures in the background. It's refreshing to see such new use cases built upon open banking and accounting data feeds, and the software stack becoming more refined and granular for the specific needs of business user segments. It will be exciting to follow what features LifeFlow will be releasing next and if it will not only unbundle Excel for finance pros, but perhaps even become a financial platform that third parties can build on top of.
Are you a fintech, bank or software provider looking to expand into embedded SME finance? Contact us for more information about the latest trends in SME banking and our related research and consulting services.