Thank you for joining the Ross Republic podcast. In our twenty-fourth episode, host Adrian Klee is joined by Yasamin Karimi, Head of Product at Codat, to talk about the evolving financial API landscape and how Codat enables any brand to connect into the financial software used by small businesses globally.
Listen now on Spotify / Apple Podcasts / Google Podcasts
It's hardly a newsflash for anyone working in banking or fintech that embedded finance is expected to grow exponentially over the next years. The main trigger for the growth of the embedded finance ecosystem is the ongoing API-fication of banking and fintech services, which has enabled a whole new set of contextual financial products and services to emerge. Banking capabilities, such as deposit accounts, payments, lending, as well as ancillary services, such as transaction data, customer verification or credit underwriting, are productised and offered via APIs, which abstract the inherent complexity of financial services away (think compliance and risk requirements) and allows any brand to integrate financial services into its customer-facing propositions. The main players that provide such banking-capability-via-API services are new cloud-based core banking providers, Open Banking providers, as well as Banking-as-a-Service providers, which have been emerging and growing fast in recent years. For example, Mambu, whose APIs enable lending, deposit and other banking products, has just raised its Series E round at €235 million, which values the tech company at €4.9 billion.
The logical next step in the embedded finance evolution in B2B is to not only productise banking infrastructure and capabilities via APIs, but to branch out into accounting, ERP, insurance or e-commerce tools that small businesses use on a daily basis: the API-fication of small business software. Ask any small business owner who recently applied for a loan at an incumbent bank – fast, digital customer experiences are still the exception and business owners loose precious time filling out forms and sending their financial statements and company data back and forth. Small business lending is just one use case of out of many. However, breaking up system-specific silos by pulling data from accounting and other mission-critical SME tools is the first step in enabling financial service providers to serve their business customers faster and more efficiently.
Are you a fintech, bank or software provider looking to expand into embedded SME finance? Contact us for more information about the latest trends in SME banking and our related research and consulting services.
This is where Codat, short for company data, comes into play. The start-up has recently closed a $40 million Series B round led by Tiger Global this year, after having raised $10 million in a Series A around a year ago led by Index. According to Techcrunch, the company will grow its revenue 9x by the end of 2021 compared to 2019. Codat is essentially a platform for small business data – it allows its customers, incl. SME lenders, insurers, credit scoring providers and fintechs, to connect into the financial software used by small businesses globally, ranging from leading accounting, e-commerce, point of sale, payment and banking providers. Vitt, a specialist lender that lets SaaS companies receive their annual recurring revenue up front for a small margin, has plugged Codat's API into its underwriting engine to conduct a real-time assessment of its customer's business performance. Needless to say, Codat saves its target customers the incredible effort to connect to individual accounting or e-commerce tools and thus enables them to focus on shipping value-adding features that build on top of business data.
Similarly to Open Banking API providers, Codat has augmented its core API offering with ancillary services. For instance, insights allows to assess a range of small business performance indicators, including profitability, sales activity, and cash flow.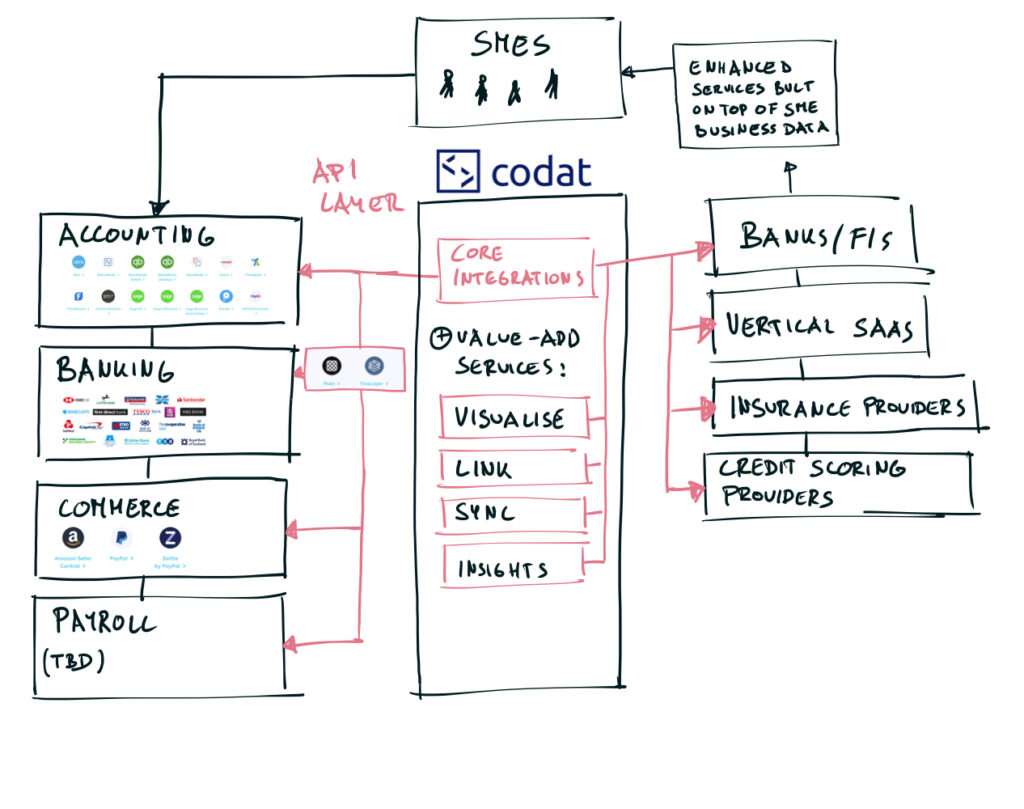 Schematic of the codat API. Source: RR
Due to the growing amount of small businesses and vertical SaaS providers that target them, as well as exploding API connectivity, Codat seems to have found a perfect sweet spot. By making it easy for a larger range of SME-focused service providers to plug into business data, Codat doesn't take away market share – it even expands the pie. Small businesses win. Digital lenders, credit scorers and insurers win. Codat wins. Even Codat's business software partners win due to the ecosystem growing around their core products, fuelled by user data. Incumbents still relying on siloed processes lose.
As fintechs and SaaS companies serving small businesses further build out their propositions around embedded finance, they will demand speed and convenience from their API providers. Being API-first, Codat is all about abstracting complexity away and excelling in inter-system data connectivity, so that its customers can focus on the rest.