Thank you for joining the Ross Republic podcast. In our twenty-third episode, host Adrian Klee is joined by Alex Müller, Head of Growth at Airbank, to discuss the current state of the SME banking market and how Airbank helps SMEs to gain real-time insights into their finances.
Listen now on Spotify / Apple Podcasts / Google Podcast
This episode is a special one, as it tangibly illustrates one of our hypotheses around fintech startups serving small businesses moving up the stack to differentiate their offerings beyond basic digital banking services. In the case of Airbank – an all-in-one finance hub that connects via PSD2 bank feeds to collect transaction data in one place – the beyond banking beachhead is account aggregation. In many cases, SMEs use several accounts, e.g. a Revolut Business account for international payments and a HSBC account when incorporating the company. Staying on top of finances can quickly get messy once you add online payment gateways into the mix, such as Stripe or PayPal. In order to avoid tedious Excel sessions, Airbank enables CFOs or business owners to get an overview of their transactions and cash positions – in real time!
Together with Alex, we evaluated the waves that underpin Airbank's growth, such as increasing API connectivity via Open Banking feeds. The oil of Airbank's growth machine is transaction data, as the engine of the economy are business transactions. The player owning SMB client's transactions gains a huge opportunity to facilitate cashflow, build value-adding services around receivables/payables and thereby create a very sticky product on top of a businesses' payment infrastructure. While expense management providers, such as Payhawk, Pleo or Moss, opted to go after card payment rails (Visa/Mastercard), Alex remarked that the opportunity to go after bank-to-bank transfers (SEPA/wire) is a much more attractive one, at least across the EU: In Europe, there are nearly €300 trillion transacted every year, yet card rails only cover about €4 trillion. The remaining transactions are covered by SEPA transfers. Selling digital expense tools to digitally savvy small businesses, such as digital agencies or dev shops, seems to be easy. However, once early adopters are covered, expense tool providers operating in a market that has become a heated red ocean need to cross the chasm by convincing traditional businesses to install an empty spend tool that they need to learn and populate. To my knowledge, the only fintech start-up that has proven to be able to do so is Payhawk by closing incumbent repair chain ATU as a customer. Now contrast this with a bank-account-first approach followed by Airbank, which allows its users to facelift their online banking providers by plugging into PSD2 APIs and having a useful cash management interface that is immediately ready to use. In short, Airbank is after the underserved long tail end of the SME market – almost every SME already uses a business current account – and utilises the tooling to address their needs in radically improved ways via the API feeds that are available now via PSD2.
Are you a fintech, bank or software provider looking to expand into the SME segment? Contact us for more information about the latest trends in SME banking and our related research and consulting services.
In my opinion, Airbank is building a fundamentally new category of software (SaaS x banking x accounting x business analytics), exemplifying a shift away from pure-play digital banking (think of the first wave SME fintechs like Holvi, Penta, Qonto), towards a SaaS-like model that utilises banking as an enabler and ingredient of a larger value proposition built around the needs of small business users and their accountants. Vertical SaaS tools with integrated financial services are an area of innovation that we at Ross Republic are actively working on and released an innovation study about earlier this year – have a look below:
The one place for bank accounts and transaction data
Instead of waiting for the accountant to submit financial statements via PDFs or manually putting together a cash position in Excel, Airbank readily connects to over 2.000 EU/UK banks out of the box and aggregates accounts, offers a cash flow management tool and allows to grant multi-user access rights. Similarly to UnitPlus in the consumer segment, Airbank can truly tailor its cashflow management tool and related analytics services to each single customer in a highly scalable way, as they are based on the underlying raw transaction data: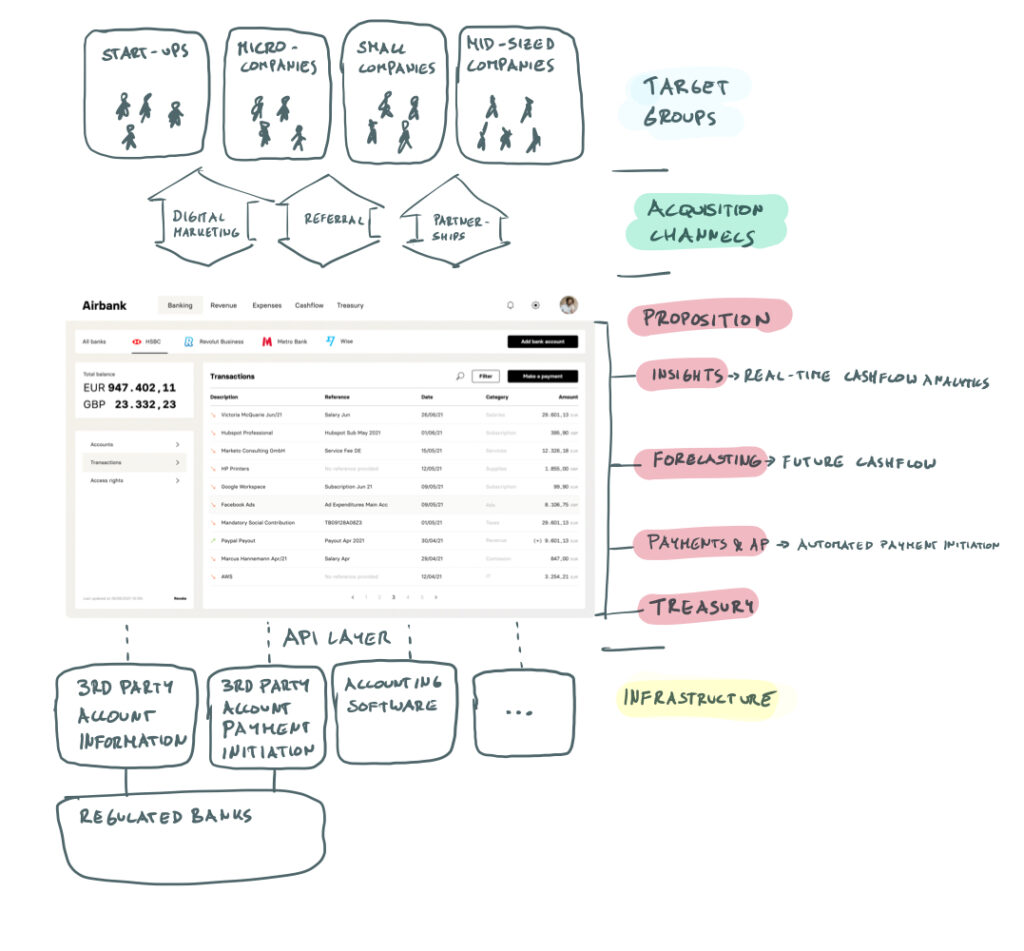 Schematic of Airbank's proposition. Source: RR
In order to kickstart the product flywheel, Airbank's team reached out to over 10.000 SMEs. The initial vertical target groups are business owners of SMEs in traditional industries, with 10-250 FTEs, with restaurants, hospitality, retail, e-commerce, medical, construction business high up on the list. Many of these businesses don't employ a formal CFO role and thus benefit greatly from Airbank's automated cashflow tooling. Beyond that, being able to see and control total assets in one portal provides psychological safety. In sum, Airbank provides transparency via its multibanking feature, time savings due to automated invoice reconciliation as well as savings due to one comprehensive tool that allows to dig up spending data. One of Airbank's tenets is to churn out product features faster than others and the start-up is already on track to push out features almost on a weekly basis:
Interestingly, Airbank will likely mainly monetise via the financial services on top of the SaaS subscription fees. While its users come for the cash flow tool, the integrated financial features incentivise them to extend their working capital, transact internationally, or to allocate excess cash. In the future, Airbank might utilise its access to a wealth of transaction data streams in order to offer revenue-based finance, pre-qualify working capital extensions or automate asset allocations for excess cash. All of these are by nature much higher-value activities that subsidise the SaaS fee.
After raising a successful €2.5 million seed round recently, including participation from Accel and Sequoia scouts, we're excited to follow what Airbank holds in store for SMEs seeking to streamline their cashflow management.