Thank you for joining the Ross Republic podcast. In our twenty-sixth episode, host Adrian Klee is joined by Siri Børsum, Global VP Finance Vertical Eco-development & Partnership at Huawei and Christoffer Andvig, CEO at Neonomics. In this episode, we'll discuss the current state of fintech and how to create a new digital financial services ecosystem that advances financial inclusion.
Listen now on Spotify / Apple Podcasts / Google Podcasts
After the Chinese tech company Huawei was prevented from conducting business with US companies, it faced a difficult challenge: how to run an operating system and app store on its smartphones, since neither Google's Android OS nor Play Store were an available option anymore. In response, Huawei quickly pivoted to open-source Android code and started to develop its own operating system and accompanying app store in order to challenge the duopoly of Apple's iOS and Google's Android, which currently jointly possess over 99 percent of the global market share.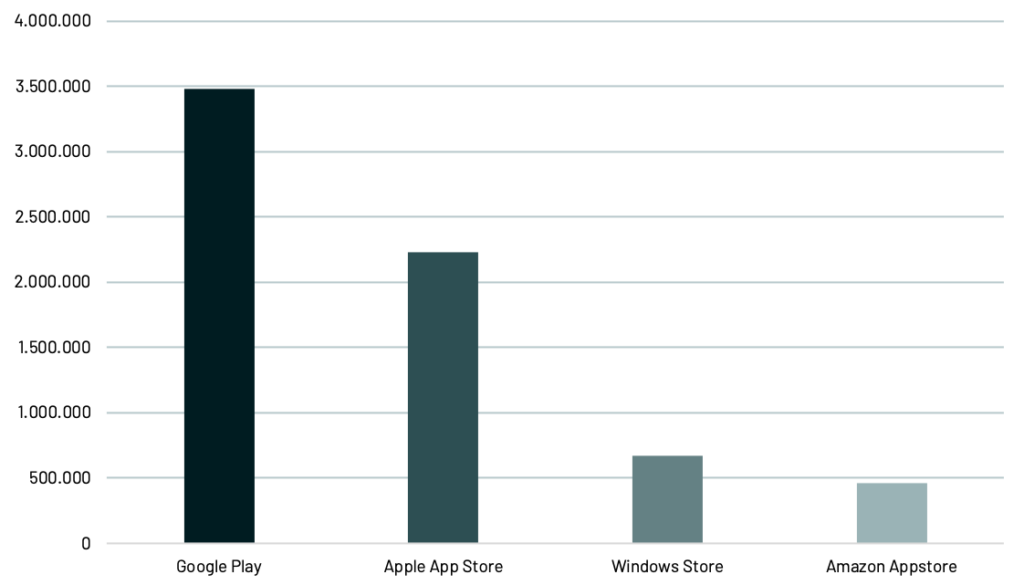 Number of apps available in leading app stores as of 2021. Source: Statista
Since the beginning of 2021, all new Huawei phones have now been running on its newly launched operating system HarmonyOS. Simultaneously, the tech company had to create a new app store, called App Gallery, from scratch, which is a whole challenge of its own given the strong dominance of Apple's App store and Google's Play store (see infographic above). So far, Huawei's App Gallery is estimated to offer around 45.000 apps.
The current state of the market and Huawei's new opportunities
Driven by the Covid-19 pandemic, consumer attitudes and behaviours have changed, as work, life and learning activities have been heavily shifting towards digital tools and services. Since an increasing amount of banking and financial services are conducted on mobile devices, a key success factor for Huawei will be to offer access to innovative financial services via a wide-ranging amount of financial apps on its App Gallery, which Siri Børsum, Huawei's global VP of vertical eco-development and partnerships, was tasked to launch from scratch.
Global transaction value forecast smartphone mobile payments in bn US dollars. Source: Statista
In the podcast, we talk about the fact that consumer adoption of digital financial services in Europe got a boost due to the pandemic and is expected to grow significantly over the next years, while China has seen this evolution already. For instance, around 80 percent of smartphone users in China have embraced mobile banking apps, while QR code payments are very common and increasingly more popular than cash and cards. Banking users in China have been particularly willing to adopt new fintech products, e.g. it is estimated that already in 2016, 40 percent were using new payment methods. Most of these new payment methods were launched mobile-first, hence driving adoption for anyone with access to a smartphone. Thus, Huawei can leverage its mobile and digital ecosystem knowledge to provide its European customers with innovative, yet safe and trustworthy financial services via the App Gallery. Today, Huawei's App Gallery is the third-largest app marketplace globally, with over 600 million MAUs, thus offering a real innovation opportunity and distribution channel for European banking and fintech app developers.
Kickstarting a new ecosystem of financial services apps on the App Gallery has not been without challenges, though. Google's and Apple's app stores dominate the market, and incumbent banks yet need to be convinced to launch their apps on Huawei's new platform. Interestingly, Southern European banks such as BBVA have been among the first to join App Gallery. Besides, fintech start-ups have spotted the arbitrage opportunity to reach a large amount of new users by being present on the App Gallery. For instance, Revolut has just launched its innovative financial super app on the App Gallery. User-centric innovation and accelerating financial inclusion seems to be a driving force for Huawei, hence they have created an innovative financial services on-ramp for European app developers: open finance. Due to the unique partnership with Neonomics, an open banking platform that is powering payments and account data, it allows developers to create the next generation of payments and financial services across Europe via one unified API. Developers thus gain access to tools that allow to connect customers to their bank accounts, facilitating fast and secure account-to-account payments and more. By allowing to access banking and transaction data via PSD2, Huawei and Neonomics could significantly boost the supply of new financial services apps distributed over the App Gallery. I highly recommend to check out our podcast, where we explored in detail the learnings from launching a new financial app ecosystem and the opportunities for both incumbents and fintech start-ups.