This is the third blog post about our new financial services whitepaper. The first one covers the importance of product portfolio innovation, the second one explores how to deliver three-dimensional portfolios through omni-channel customer journeys. Based on our project work with different banking providers, this post explains how to get started with portfolio innovation. If you're interested, feel free to get in touch with us to explore how we can help you define a future-proof product portfolio.
The Ross Republic roadmap for product portfolio innovation
Sustainable growth through streamlined product portfolios can only come from valid insights about what customers expect from their financial services provider, what can be delivered though technology today and how to follow through with a sound monetisation plan.
Not every bank is able to go into full revamp mode. Depending on the current focus, it's either about defending and defining the core business or about investing in growing in new profitable segments and markets. Hence, every strategy is as unique as the bank it is made for.
Regardless of the starting point, there's a simple three-step process that helps to structure portfolio innovation:
Customer and target market insights

Redefined and new value propositions

Horizontal and vertical channel development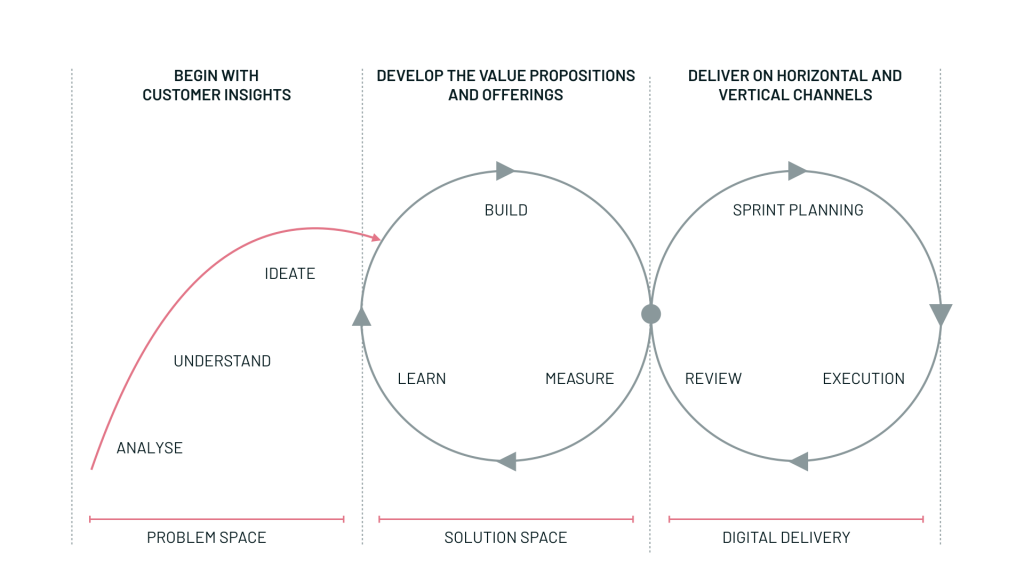 1. Begin with customer insights
Different customer segments have different needs. Client retention is higher at banks that are able to match their target groups' financial needs with useful offerings that allow to interact in the customers' preferred way, whether that's digital or human. Beyond that, growing through digital channels depends on volumes and conversion, hence a thorough understanding of the target market size and online behaviour is needed to create realistic expectations.
If you want to understand your current and future most valuable customer groups, their financial needs, jobs-to-be-done and channel behaviour, feel free to contact us. We offer a customer discovery project module that generates the insights needed for successful product portfolio innovation.
2. Develop corresponding value propositions and offerings
In order to kickstart execution not all business lines need to be overhauled. A first might be to start with retail offerings. After understanding which clients the bank can serve best, it should focus on its strengths and most value-adding services. By mapping out all offered products according to actual customer needs and willingness-to-pay, legacy portfolios can be streamlined.
Afterwards, offerings should be aligned to the digital, hybrid or human dimension. By prototyping high-growth digital entry offerings that solve customer pain points and defining highly value-adding and engaging expert services (hybrid and human), banks can create a product portfolio that is competitive in the future.
Our portfolio innovation module lets you streamline and innovate the product portfolio. To streamline the overall portfolio, we map out all offered products according to actual customer needs and willingness-to-pay. Each product will then be clustered around digital-first, human-first or hybrid layers. We will then create one or two product prototypes by either iterating existing products or developing new ones from scratch. By combining customer needs, new technological possibilities and smart monetisation models we ensure that these prototypes have a sound basis for further development.
3. Deliver on horizontal and vertical channels
First versions of digital offerings can be quickly tested and iterated in different markets via digital channels, while new hybrid services can be validated through service design pilots in narrow market segments. However, the easiest way to get started is by starting small and embracing this new, fluid channel approach with one product line that already works well.
The Ross Republic channel innovation project module enables you to develop omni-channel customer journey for the digital age. If you want to create a coherent system for delivering the right product to the right audience via the right channels, get in touch with us here.
Let's talk about the customer-driven future of banking
We have a clear vision of where the financial services industry is headed and would love to discuss it with you.