Fintechs and incumbent banks can learn a lot from adopting digital growth strategies of the gaming industry.
While incumbent banks have struggled in the past with upgrading their business to the digital age, plenty of new fintech startups have been popping up and absorbing more and more VC money than ever. Now is the time for incumbent banks to follow suit and to own the next horizon of financial services innovation. That means utilising brand-new technology and mobile-first solutions, building agile organisational structures, obsessing over serving customer needs and winning over new, i.e. younger, customer segments with state-of-the-art banking experiences.
How to build and grow a digital offering
It might be a bit of a stretch, but one of the currently most popular games, Fortnite Battle Royale, delivers a perfect lesson on how to successfully build and grow a digital offering. With over 250m users and a revenue of $2.4b in 2018, the game just set a benchmark in how to attract, engage and monetise a free to play offering which is built around the needs and habits of a mainly millennial target group. These are the future customers of banks. Thus, it makes sense why it is important to understand how to win over this crucial user segment. Even BBVA has recognised this already, hence this post explores some of the underlying lessons.
Now, what does this have to do with Fintech?
If financial service providers want to get one takeaway from this case, it's that digital revolution in banking needs to build on shifting business models and rising expectations regarding digital UX. Digital transformation is not about dumping existing banking products into digital channels or creating a young challenger brand just for the sake of it. It's about creating entirely new experiences that are built from the ground up to meet customer needs.
Iteration and customer obsession (listen, don't dictate)
Epic Games actually had launched with a completely different concept of the game and quickly responded to market trends and user feedback to come up with what Fortnite is today.  In order to develop new digital banking solutions successfully, early prototyping and iterations based on actual customer feedback are crucial. Most large financial institutions still have a very legacy product-centric view, which makes it difficult to truly understand what customers want. Challenger banks like N26 or Monzo have started out with niche products, such as exceptionally well designed current accounts that worked well for their initial early adopters and then branched out successfully with adjacent banking features. Your offer needs to fit the habits and user journeys of your audience, not the other way around. This is especially true for millennial target groups.
Experimenting with new business and monetisation models
Fortnite shows that it's possible to create revenue with land-and-expand pricing models. Of course, this again requires user insights. What do they value most? Which features are they willing to pay for, and which features should be offered as add-ons? What's the most promising offering to get as many leads as possible in your conversion funnel? Which nudges are needed to drive up average revenue per user?
Going beyond platforms and network effects as growth drivers
Gamification and nudging are rarely used effectively when designing new digital banking offerings. Fortnite is a benchmark when it comes to making an offer so enticing that a huge user base can be built in a short time and keeping enough of them engaged and willing to pay for value-adding features as their product usage increases. Especially in digital customer journeys, there are plenty of deliberate growth drivers to consider, such as the Panini-effect or FOMO, which can result in massive growth. The challenge is to design a whole set of reinforcing nudges that fit the target group's behaviour and your chosen business model.
Get in touch here to learn more about how to build addictive new banking offerings.
A short deep dive into Fortnite and how the game became a global hit so quickly
Fortnite's current growth numbers are truly impressive:
Fortnite was released by EPIC Games in July 2017 as a so-called Battle Royale game. In the game, 100 online players are thrown onto a comic-style island, where they need to quickly gather weapons and materials and eliminate all other opponents while the overall area to play is shrinking continuously. Per se, this model is nothing new in gaming. However, there are some critical strategic moves that propelled Fortnite to global success.
User acquisition is about cross-platform, mobile-first, free-to-win and streaming
Fortnite was quickly rolled out to be compatible with every major device and platform, which meant it could be played on an iPhone or PC alike. Cross-platform compatibility matters a lot when you want to utilise word-of-mouth and quickly increase user base growth, as your product adoption will not be constrained by a specific device or operating system. The simplest way to start playing the game is to just download the mobile app, which makes it extremely easy to try it out and to evangelise the product. One can just invite friends to play along since literally anyone with a computer, tablet, smartphone or console is able to participate.
However, not many users would have tried it out if they had to pay for the service in the first place. Hence, Fortnite is free to download and to play on every device without restrictions. No subscription or freemium models and no annoying ads pose any threshold to access the game, which is especially important as the economic buyers of video games are usually parents. Fortnite is changing the distribution model by making it extremely easy for the young user base to start playing. Besides that, Fortnite has popularised streaming as a crucial part of the gaming experience. Users can showcase their gameplay online over streaming platforms like Twitch or YouTube, which massively increases global brand awareness among mainstream audiences.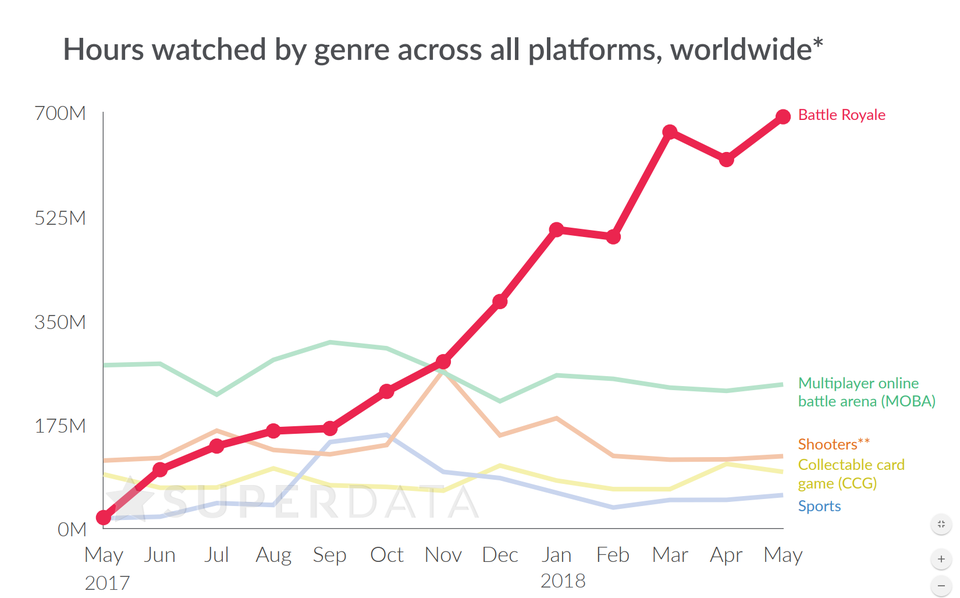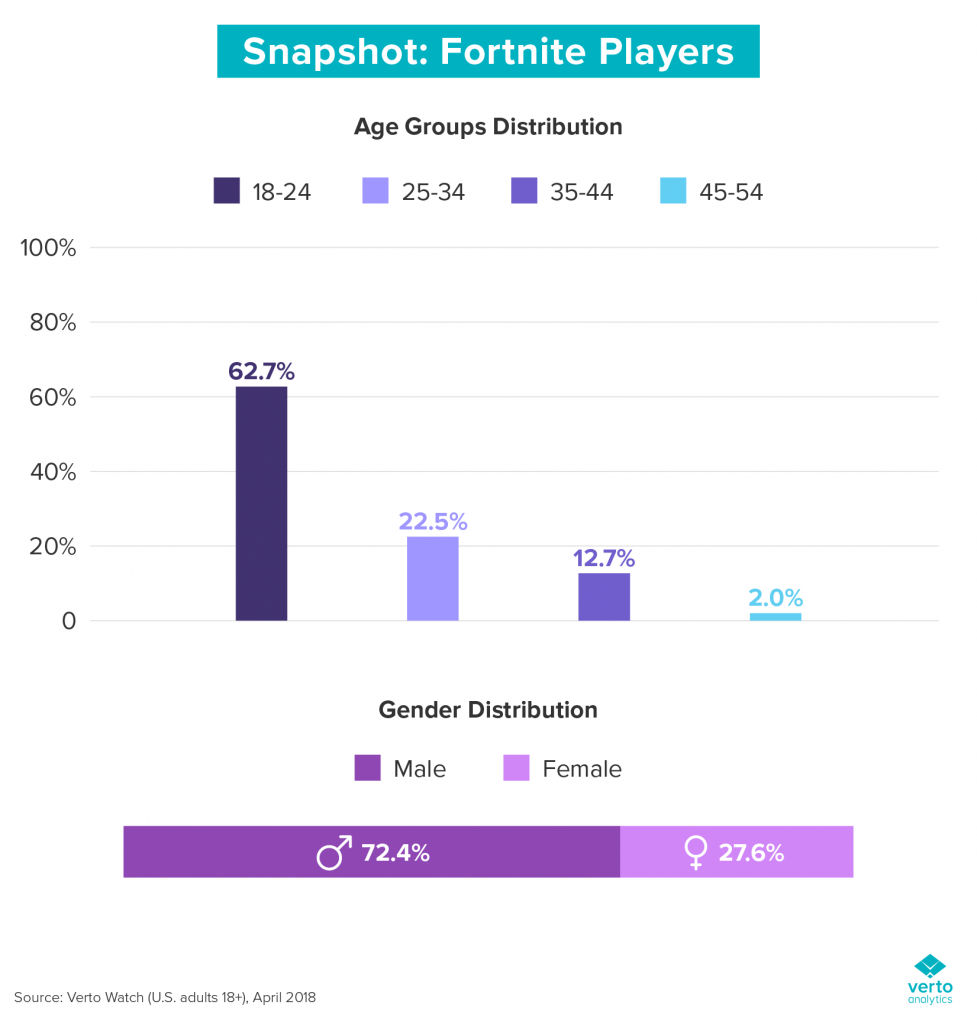 Engagement and retention builds on FOMO, customisation and Panini-effect
After getting started with the game, it's also easy to get hooked. Each session is rather short-lived and unpredictable (the opponents are exchanged, their skill level is different, the landing points differ, items are distributed randomly). This unpredictability reinforces instant gratification models that are already well researched in social media.
To keep users truly engaged in the long run, Fortnite releases every three months a new 'season', which are large updates that adapt the narrative and game modes. For each new season, users can also get a 'Battle Pass'. The general rules of the game stay the same for every player, but with the Battle Pass extra challenges can be solved and rewards can be gained. There are also numerous other features that are only available for a limited time, e.g. special skins (i.e. avatars), which gives a reason to check in frequently. These skins can either be gained by playing a lot (and thereby unlocking these features) or by converting real money into the in-game currency, V-bucks, to buy them directly. This is the only way for players to show their advancement in the game, which means they need to stay engaged (more on that in the business model section). By collecting these skins, players can show off their skills, resulting in a Panini-effect: players will feel the urge to complete their collection, a well-established concept in pricing strategy. Further, with each season the point balance of each player starts again at zero, which gives them a new chance to start all over. Needless to say, these are actual gamified experiences that nudge users to come back over and over, as no one wants to miss out.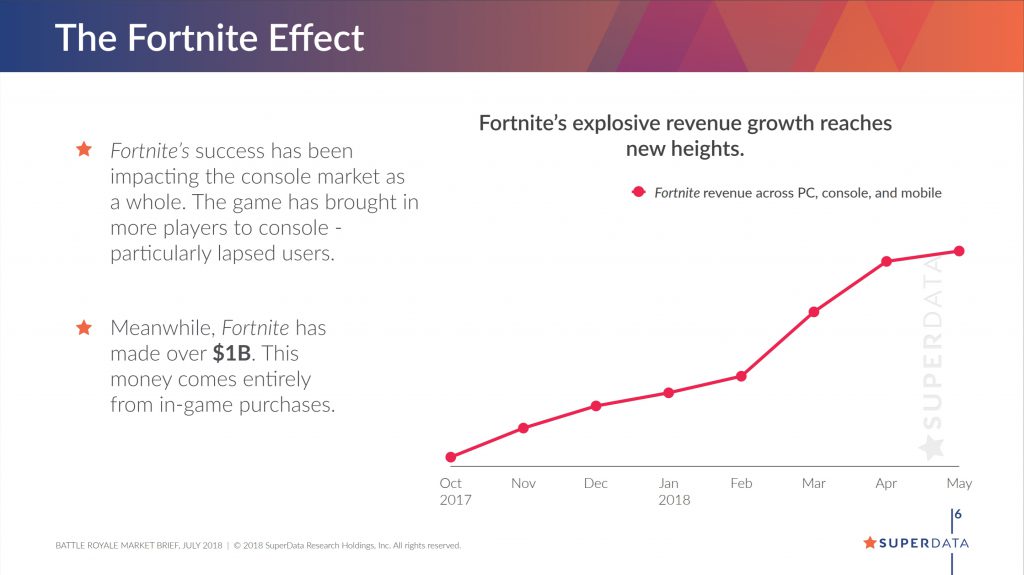 The underlying business model
While the Fortnite user acquisition and retention is enormous, the game also demonstrates that it is possible to monetise free offerings successfully. The underlying 'land and expand' monetisation strategy aims to get as many people to try out the offer on a free tier and then charge them for specific, value-adding features (in the case of Fortnite it's the in-game purchases).
This strategy is nothing groundbreaking; however, Fortnite excels in locking customers in.  The average player spends $60 on the game, even though theoretically the whole game can be played without spending anything on it. The in-game currency, V-Bucks, can be purchased with real money and then used in the game, e.g. to buy a Battle Pass that grants extra challenges and content. The decision to go for the Battle Pass monetisation is extremely clever and unique: as users are already playing the game for free, they don't mind upgrading their experience for a few dollars. This decouples the purchase decision from the decision to actually use the product. As the season progresses, users are keen to spend more time playing to avoid wasting the money they paid for the Battle Pass. And the more they play, the more reasons they will have to spend even more on upgrading additional features.
It's also important to mention that the majority of gaming audiences dislike pay-to-win models, where users pay to get an advantage in the game. Hence, all offered in-game purchases don't have any effect on gameplay, they're purely 'cosmetic', which makes it even more compelling.
In addition, players can directly purchase skins, as already mentioned. As Fortnite is played from a third-person perspective, players constantly see their avatars. Hence, at some point, they want to show to themselves and other players that they progress in the game by buying the latest skins. With this model, the only way to show off progress is through cosmetics, which most users are willing to pay for. In a nutshell, Fortnite built a reinforcing system that brings in a huge number of users that get a lot of value from the free tier, which fosters organic growth, but also enough built-in incentives to make them pay.
There are many more aspects to Fortnite's business model and growth drivers, which can be read about here, here or here.
Sources
Crowdfund Insider, January 30, 2019: "Report: Fintech Deals Top $39 Billion During 2018 for Record Year of Investment"
https://www.crowdfundinsider.com/2019/01/143893-report-fintech-deals-top-39-billion-during-2018-for-record-year-of-investment/
BBVA, February 19, 2019: "How Fortnite might just end up changing the banking system for good!"
https://www.bbva.com/en/how-fortnite-might-just-end-up-changing-the-banking-system-for-good/
Polygon, March 17, 2018: "Why Fortnite Battle Royale's surprise success isn't a matter of luck"
https://www.polygon.com/2018/3/17/17130676/fortnite-battle-royale-success
VentureBeat, July 30, 2018: "Fortnite passes 100 million downloads and $160 million in revenue on iOS"
https://venturebeat.com/2018/07/30/fortnite-clears-100-million-downloads-and-160-million-in-revenue-on-ios-alone/
Quartz, June 26, 2018: "Fortnite is free, but the average player spends $58 on it"
https://qz.com/1315120/the-average-fortnite-battle-royale-player-spends-more-than-55-on-it/