Thank you for joining the Ross Republic podcast. In our thirty-eighth episode, your host Adrian Klee is joined by Claudio Wilhelmer, Chief Commercial Officer at Dock Financial.
Listen now on Spotify / Apple
One of our key hypothesis at RR is that the rapid digitalisation of the banking industry results in the split of its manufacturing and distribution functions. Long-term, there will be players fully focusing on the manufacturing of financial products, such as balance sheet management, regulatory and risk compliance, as well as maintaining the underlying core banking system of financial products like bank accounts, cards, payments or lending. All of these services are wrapped under APIs, which players fully focusing on the distribution side plug into their customer-facing products to integrate them as a product extension.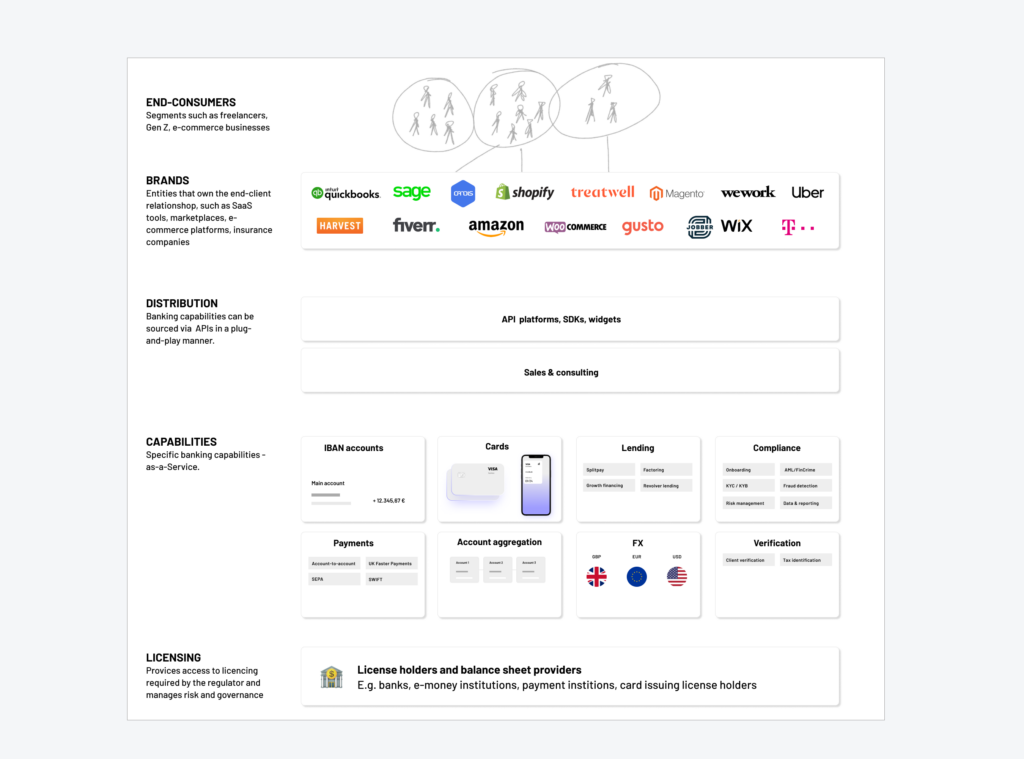 Schematic of embedded finance providers. Source: RR
Given the current integrated business model where all financial services are offered by one provider, this shift will take time to fully materialise. One key learning that RR made during client projects is that especially the brands that integrate financial services need a strong support system to first understand potential product and business opportunities, and later to implement them effectively.
While the provider side of banking-as-a-service has matured over the last five years, most brands still need more than just a good API documentation and a few consultative sales calls. Launching an embedded finance feature requires to understand how to weave a financial service into an existing offering, while adhering to complex regulatory and technical requirements. Despite the existence of Banking-as-a-Service providers who promise fast out-of-the-box implementation, embedded finance projects can easily take a year until production launch.
This insight led Claudio to found a new embedded finance startup, Paydora, to provide a dedicated support layer on top of existing Banking-as-a-Service providers. Focusing on explaining the business opportunity and providing technical infrastructure to launch an embedded finance use case within weeks or a few months, his team closed deals with large enterprise clients such as Metro or Booking.com. Paydora publicly launched this year in May, using German Dock Financial as is key Banking-as-a-Service partner. Just six months later, the company now announced that it will merge fully with Dock Financial given the strong synergies of both companies.
In the podcast, we talk about:
What Claudio learned at this time at Revolut
From linear banking to embedded banking – what triggers the change, why now?
How Paydora and Dock Financial differentiate from existing BaaS competitors
Claudio's vision for Paydora and Dock Financial