Listen now on Spotify / Apple Podcasts / Google Podcasts (link will be added soon)
Embedded finance has evolved as one of the hottest trends in fintech, yet many discussions around this topic rarely provide hands-on examples of how embedded financial services are applied in the real world today. That's why we invited Christian Ritosek (Co-founder and CEO at Candis) well as David Frei (Head of DACH at Swan) to explore tangible examples of how financial services can be seamlessly integrated into third party services to maximise user value and unlock new revenue streams.
The next wave of embedded finance is driven by brands outside of fintech
Embedded finance is enabled by tech companies that allow any brand to seamlessly integrate financial services into their own proposition. These tech companies act as Banking-as-a-Service (BaaS) providers, since they take care of the financial products as well as the underlying technology and regulatory stack of the value chain, so that their clients can fully focus on the end-customer experience. While the first wave of BaaS providers, such as Solarisbank or Treezor, have focused on enabling brands within the fintech and banking sector to more easily launch financial services propositions, the next wave is extending the scope towards brands whose core value proposition is outside of banking. Typical examples are accounting or ERP software, insurance or consumer apps that involve money flows.
A prime example of the latter wave of BaaS is Swan, a Paris-based tech company that is a licensed Financial Institution. Having its own license is a massive advantage, as it can be extended to its own clients outside of the banking industry who don't have to obtain their own agent license.  Swan's BaaS platform thus enables companies to embed white-labeled banking services like accounts, cards, and IBANs directly into their products and customer experiences: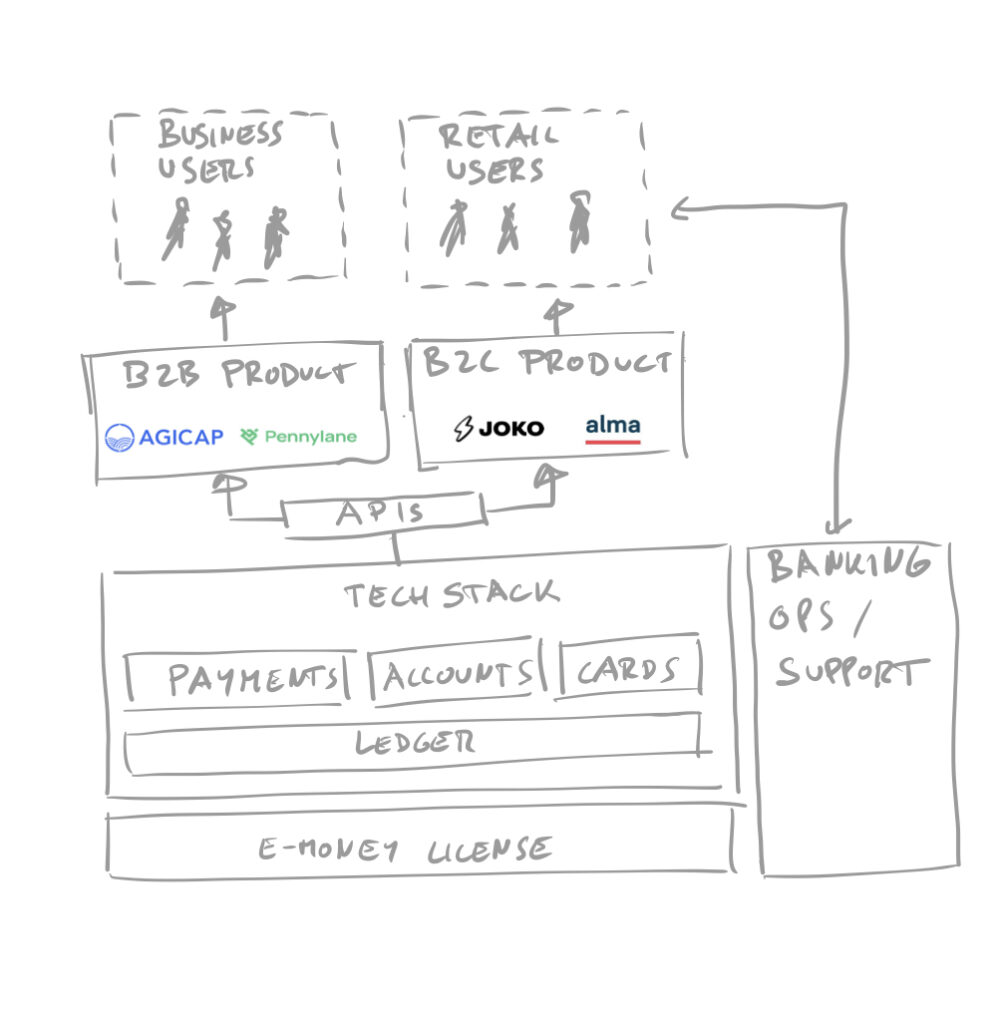 Schematic of Swan's offering. Source: RR
Christian, co-founder of Candis confirmed the increased interest in embedded finance from companies outside of the financial services domain. Candis is a highly successful B2B SaaS Scale up, which automates financial processes such as the receipt of invoices, data entry, invoice approval and data export for small and medium-sized enterprises through artificial intelligence. Even though Candis' AP solution is used by over 10.000 enterprise customers that manage over € 3bn in monthly invoicing volume, until recently it didn't offer a fully native solution to pay these invoices directly through its platform. Given the opportunity to collaborate with a local banking-as-a-service provider, Candis just launched an integrated payment card offering. The new payment cards will allow its users to conveniently pay invoices directly through Candis, offering a tangible added-value to its customers, while unlocking a new revenue stream for Candis. During the podcast, we discuss a few more use cases that Swan recently enabled for its clients and the added benefits that Candis seeks from its new embedded finance offering.