Amsterdam has developed into one of the most progressive technology and start-up hubs in Europe. It's a city that builds on a long tradition in innovation. That's why we've attended TNW2019, a leading tech and innovation conference. It brings together international technology executives, top-tier investors and promising start-ups for two days of business and knowledge sharing.
Get high and to the right
This year The Next Web Conference gathered around 20.000 people at the waterfront around Amsterdam Noord. The conference covers the most hyped topics around technology and the next upcoming big developments at the intersection of design, business and innovation.
The very anticipated opening speech was held by Guy Kawasaki, who led the marketing of Apple's Macintosh in the 1980s. He's an outstanding entrepreneur and a Silicon Valley legend and talked at the conference to promote his new book and share key learnings about business and life.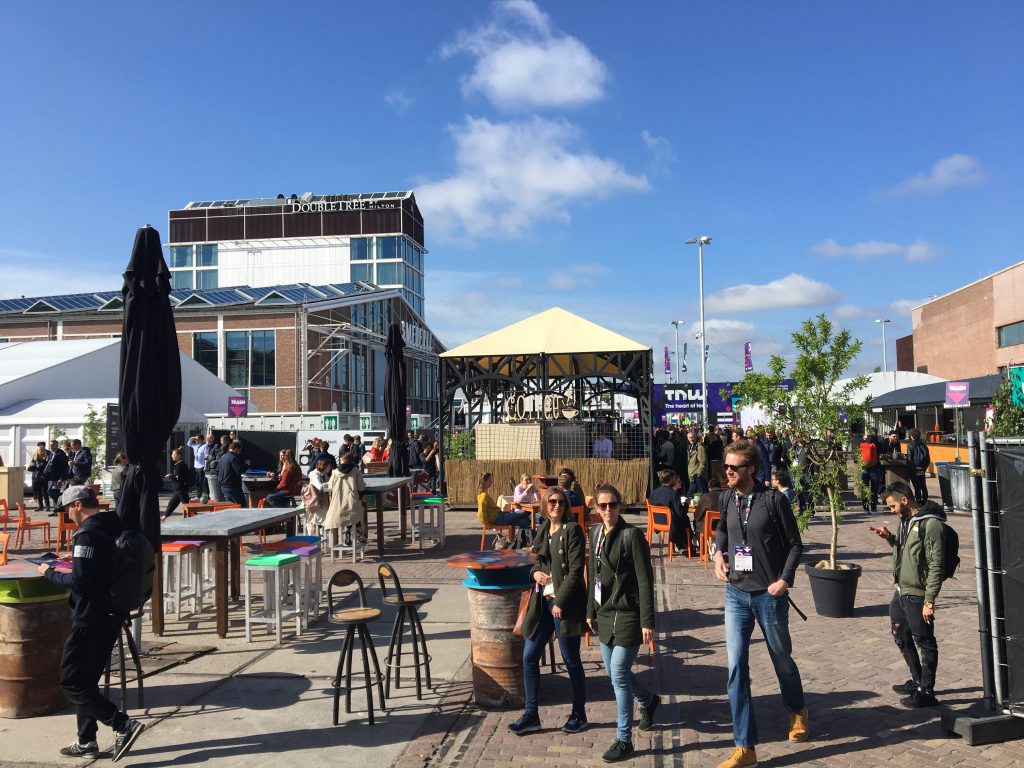 Two days full of talks and networking
The very anticipated opening speech was held by Guy Kawasaki, who led the marketing of Apple's Macintosh in the 1980s. He's an outstanding entrepreneur and a Silicon Valley legend and talked at the conference to promote his new book and share key learnings about business and life.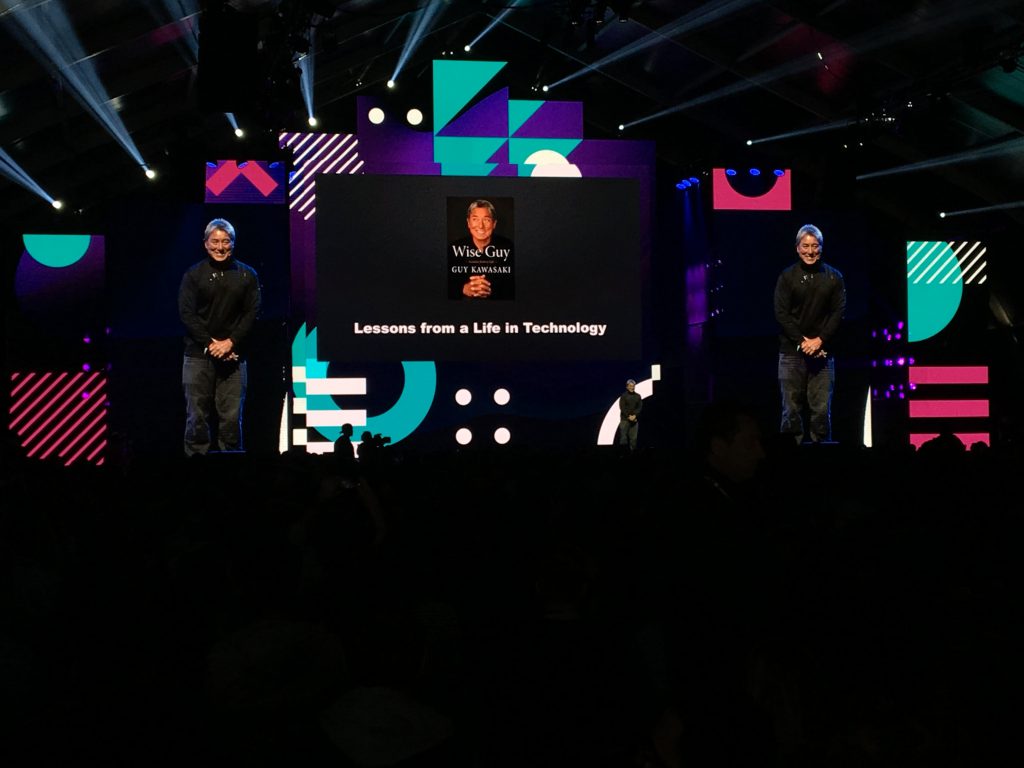 Guy Kawasaki on stage at The Next Web
His main takeaway was the humble opinion that useful innovation consists of just two components: being very unique and very valuable. He illustrated his point with the market launch of the first Apple iPod: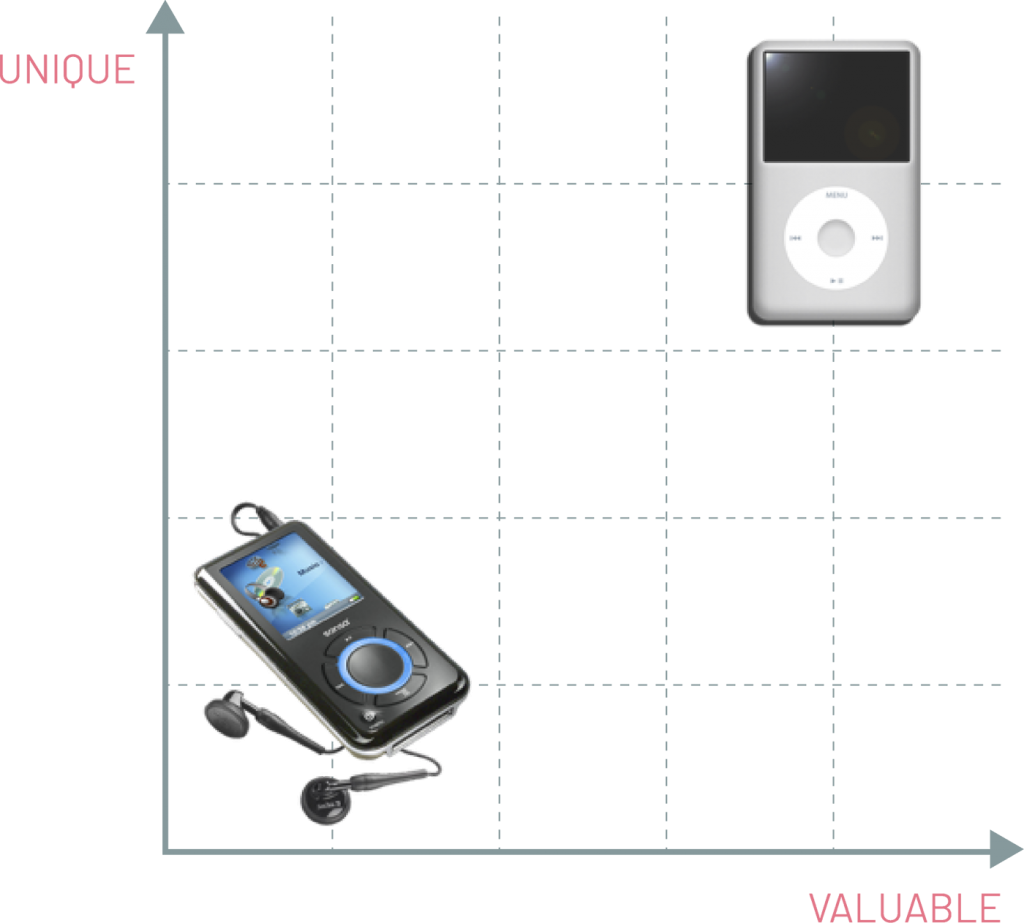 The key to product success
What happens after product-market fit?
Another highlight was the presentation by Des Traynor, co-founder & CSO at Intercom. He made the point that while there are countless articles and studies covering how nascent companies can find product-market fit, there is no readymade playbook explaining how to scale thereafter. In order to scale a proposition that already has market traction and serves a satisfied core audience, companies need to approach several aspects quite differently than during the pre-product-market fit phase.
These are:
Evolve your roadmap
Evolve how you build
Maintain your edge
Beware of dogma
The point is that at the beginning, the product is defined by heavy experimentation in finding the right product for the right users. However, after having reached product-market fit, it's more about evolution and prioritising based on what already works well. For example, if product analytics reveals that your best user cohort (e.g. the one with highest ARPPU, average revenue per paying user) shows a certain usage behaviour that could be improved, the product roadmap should be built around that. Thus, the product managers should prioritise on data and what already works well vs just keeping on building features based on a grand product vision or gut feeling.
Similarly, the practices of product development need to be adapted for scalability. It's easy to become complacent and to just continue with what worked well before, but in order to maintain the company's initial edge the customer behaviour and need analysis should always be the focus, no matter what stage the company is in. Otherwise, the company will easily be replaced by a new approach or technology that solves the customer's problem easier, cheaper, or faster. Therefore, maintaining a beginner's mind and always questioning the company's actions based on data and customer insights prevents building up dogma.
Corporate transformation is entering the second phase
When discussing with all the corporate representatives at TNW, one thing became very clear: everyone understands that their operating models need to change in order to survive, hence digital transformation programs are the norm. Most have already overhauled traditional structures and processes. Innovation labs are all over the place. Every corporate scouts for interesting start-up cooperations relevant to their industry. Thus, most companies have transformed their traditional organisation into a digitalised version, and now there's a lot of talk about entering the 2nd phase: becoming fully digital players.
However, the problem is that it's just that: a lot of talk. While many legacy organisations have good intentions when it comes to innovation, they're very slow to change their modus operandi. Innovation is a unique capability that can't be bought with billion-dollar transformation programs or built up just by starting a new department that is still restrained by the bureaucratic corporate environment. These organisations don't need innovation for show, which has been the case for the most part, they need tangible results delivered by a small and empowered team free from legacy processes. This fact was most apparent when talking to mid-level managers at TNW 2019, which are quite frustrated about being held back by the larger organisational operations. Hence, good intentions or ideas aren't missing, but the execution power.
Take Porsche as a progressive example. Porsche stood out during TNW with a modern booth that showcased their Mission E concept car. Representatives explained that Porsche is on a journey to fundamentally transform its business model: From a traditional automotive company to a software-enabled automotive tech player. Consequently, the whole organisation needs to balance the act of transformation: building on its heritage while embracing new technologies and mindsets. Consequently, topics like in-car UX, new technologies like blockchain or AI, machine learning and e-mobility were the clear focus. For example, half- or even fully autonomous cars will have completely different differentiation factors, such as the actual user experience inside the car via a lot of smart services and voice assistants. The future of mobility is complex, hence also Porsche masters its transformation by partnering up with start-ups such as chargetrip. 
Conclusions of The Next Web Conference 2019
The key topics are still artificial intelligence and machine learning, although many presentations raised concerns about governance and ethics
Even though many corporates are still investing heavily in digitalisation and transformation, they are coping with internal barriers, such as the typical friction between external innovation units and the core organisation
New business ecosystems across industries are emerging; however, it's difficult to predict the final shapes and forms. The fall of incumbents due to aggressive start-ups hasn't happened, rather the opposite is the case: Many incumbents either invest, partner or acquire them. Post-acquisition many of the new solutions are gradually incorporated and lose their relevancy over time. Consequently, if innovative and cross-sector ecosystems will be established and how they re-orchestrate legacy value chains remains to be seen