Amsterdam—and the Netherlands in general—is an unparalleled innovation powerhouse in Europe. Especially the banking landscape is unique, with several incumbent banks investing a lot in their organisational transformation on the one hand and an extraordinary amount of promising fintech start-ups on the other hand. Holland Fintech brings together all financial services related players in order to foster knowledge sharing and co-creation. On May 22, 2019, we joined Holland Fintech Meetup to give a short pitch about Ross Republic and the future of financial services.
 Joining Holland Fintech 
As we have helped leading financial services companies with strategic innovation and growth, such as Holvi (Germany) and Pop Bank (Finland), we are excited to join Holland Fintech to share our expertise and to become part of the Dutch innovation ecosystem. Thus, on May 22 we joined a diverse group of banking and fintech enthusiasts during the monthly Holland Fintech Meetup at the Robeco HQ in Rotterdam.
The Holland Fintech meetups bring together a broad group of actors from the Dutch and international Fintech ecosystem, where one can get an update on latest tech developments, cool start-ups and innovative projects and insights from matter experts. During the meetup, several Holland Fintech members pitched about their services:
NEOS Direct Lending: Business is changing faster than ever, and promising businesses need proper financing solutions to stand out and realise their potential. To empower these businesses, NEOS Direct Lending is devoted to providing tailored and flexible financing solutions.
Pebbls: The first fully digitalized PaaS asset management platform in the world and is part of a unique global pensiontech ecosystem.
Buddy Payments: Develops a scalable mobile application to help vulnerable citizens with their personal finances by giving insights into their financial situation and reserving funds for fixed charges.
Bedfordrow Capital: Corporate finance business that primarily advises on the structuring and distribution of listed, freely transferrable debt securities (Eurobonds).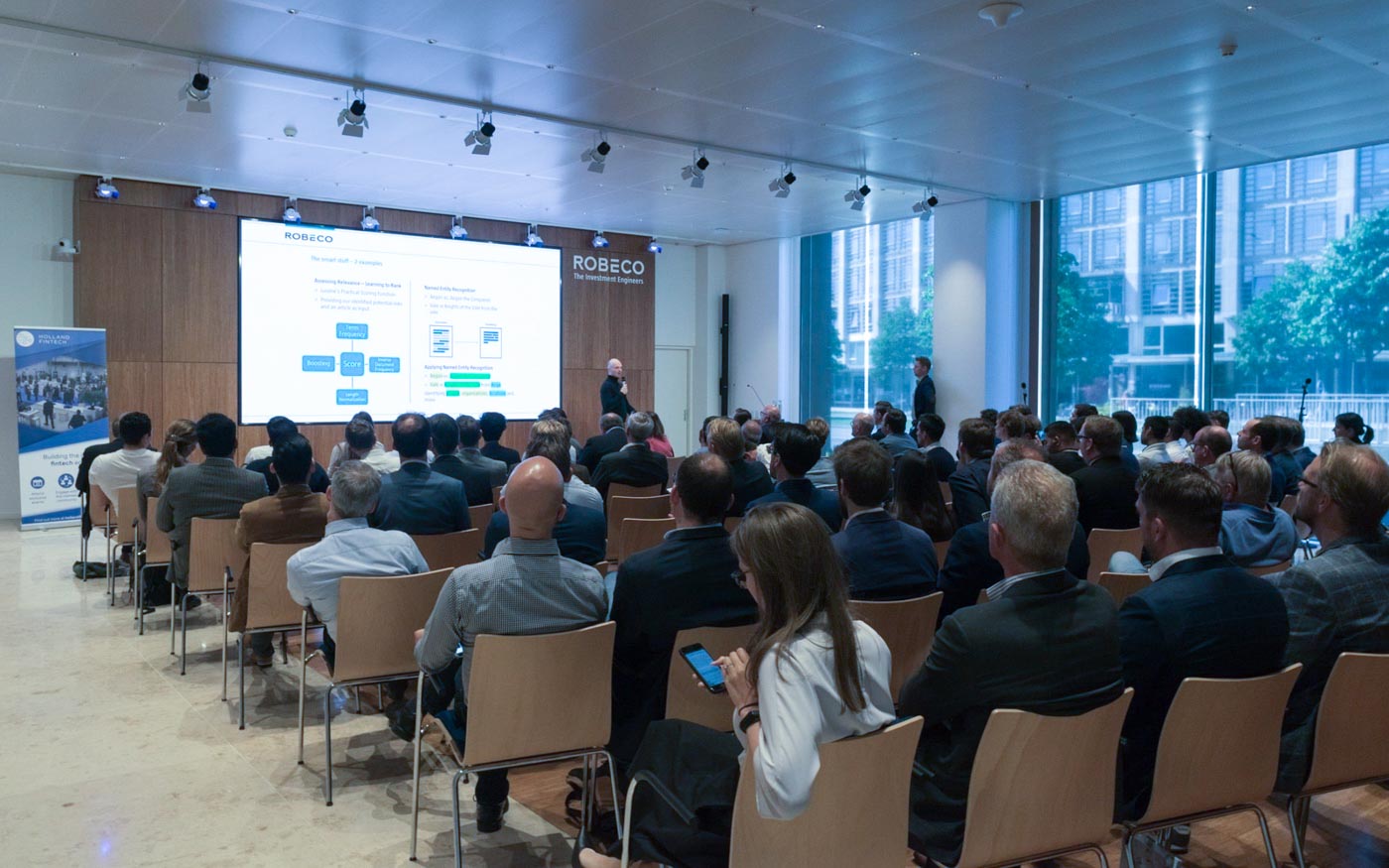 During our pitch I gave a short viewpoint on the future of banking and how we solved one of our banking client's growth challenges. My thesis is that incumbent banks can own the next horizon of financial services innovation, if they start acting accordingly. The value chain in financial services is currently reconfigured, and it will definitely result in digital winners and losers. Some warning signs are already appearing, such as a Quartz article from 2018 stating: "A Dutch financial upstart you may not have heard of is now worth more than Deutsche Bank." Obviously, it's the fintech Adyen, and the market dynamics have even intensified since the article was published: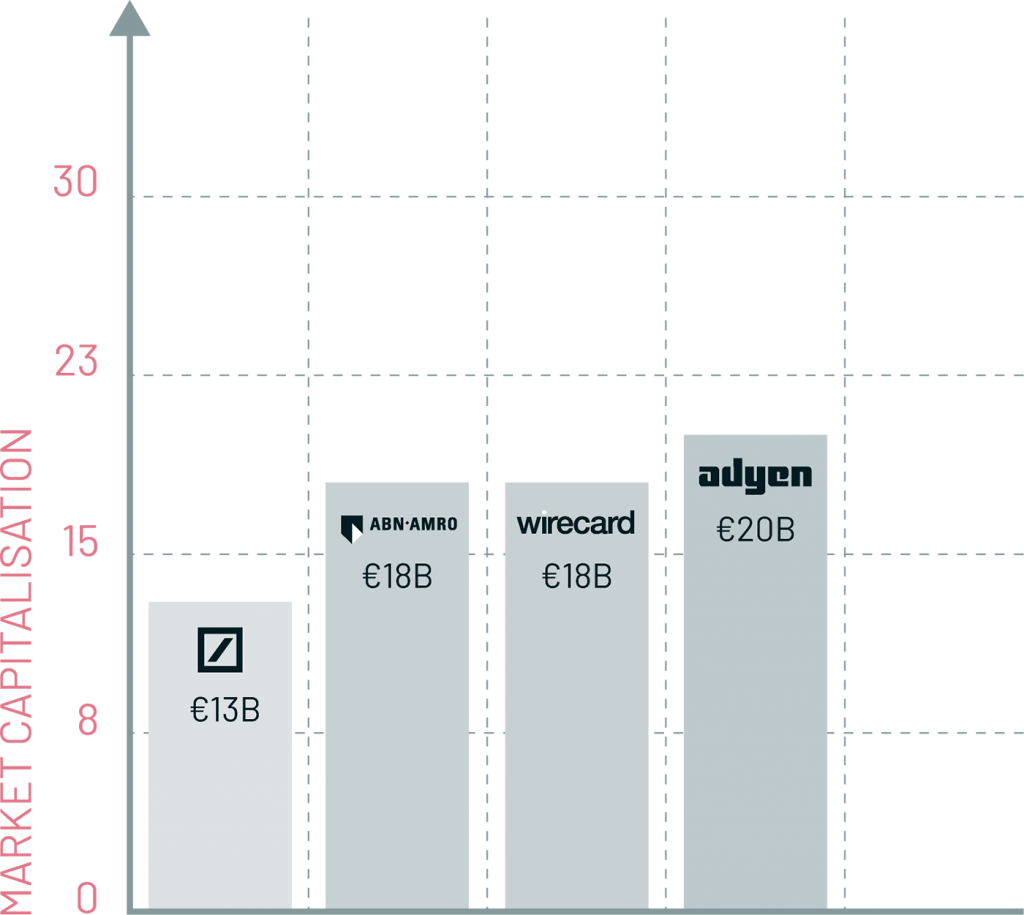 On the one hand, obsolete cost bases, legacy processes and inertia will fail most legacy financial services companies. On the other hand, digital innovation in banking has never been easier than before, right? Modern tech stacks, banking-as-a-service providers, online distribution channels and methods to establish new ways of working are all easily available, which lowers the entry barrier in banking but also enables the incumbents to capitalise on these developments.
The truth is, however, successful digital innovation in banking is still difficult to pull off. While it is extremely easy to talk about all the right things that need to be done ("The next generation of banking is experience- and user-driven"), it takes a whole lot more to actually go into productive execution mode. Successful execution highly depends on long-term experience, which is not gained from a one-week design thinking boot camp. Hence, the innovation capabilities that are not restricted by organisational or technical debt still need years to be built up, which is the real challenge for banks at the moment. You actually need to go to your users, observe their behaviour, interview them about pains and gains, get a real understanding of their realities. You need to know how to extract the right insights. You need to show early prototypes of your new value proposition and understand if what you're offering actually solves a real problem. You need real know-how in distributing new financial services in a digital environment. This bottom-up approach of developing financial services, which by the way should result in a completely new value proposition enabled by new tech, is the exact opposite of how banks have operated for decades.
A key principle in economics is that there's no free lunch, i.e. no one can beat the market. The same applies to innovation capabilities – you just can't cheat or buy your way into it.
Let's get in touch if you're interested in starting the journey.