When a market matures, businesses extend their life cycle by reinventing themselves and investing in servitisation and digitalisation. In the digital era, it is not enough that companies operating in different parts of the B2B value chain independently uncover new value. Siloed inside-out approaches lead business partners creating competing and fragmented customer journeys. A co-operation is a pre-requisite for creating customer-centric solutions as well as introducing new purchase criteria that will help to keep maturing categories financially attractive a little longer.
This is the second post of the two-piece series about competitiveness and competitive advantages of European B2B businesses. In this post, I play with the idea of Open B2B Industry and evaluate if it is a feasible future scenario. The first post covered the structural and cultural issues that hinder unlocking future competitive advantages.
Opening the door for low-cost products and e-commerce platforms
The reluctance of European manufacturers and distributors to collaborate on customer-facing business interfaces leaves them exposed to two very different kinds of competitors. On the one hand, low-cost manufacturers exploit the inability of quality manufacturers and distributors to reset the game by shifting the focus from product price to customer experience as well as savings in the operational and capital expenditures. On the other hand, global e-commerce platforms understand that the future winners are the brands that deliver the expected outcome, fast, within one platform or session, even if there are many partners involved in providing the service.
Customer-centric joint-innovation is the future
The future of many European companies, as well as the ROI of their digital investments, would be quite different if European manufacturers and distributors joined forces and shared a customer-centric vision: "Deliver the desired outcome within a seamless customer journey, no matter the number of partners involved, and do it fast".
Why is this important? Because the majority of European companies lack two critical factors for future success: The necessary resources to build digital platforms utilising the latest technologies and scale the business beyond traditional geographic markets. Even if they had the resources, they could not offer seamless customer journeys without redefining the legacy structures and roles between the partners.
Unless manufacturing companies diversify their business model and channel strategy to a hybrid model where a company manages top customers with the direct-to-customer approach, or disintermediate channel partners altogether, the most feasible way to serve end-customers in a customer-centric way is to increase business alignment with distribution partners.
Thinking and acting differently
The good news is that the change is already happening across industries. The vision of kloeckner.i, the innovation hub of the international steel and metal distributor Klöckner & Co, is a digitised steel and metal industry in which all market partners work together efficiently.
Eneco, the Dutch energy company as well as German E.ON both are diversifying their business models. In addition to selling their energy products, they also act as a market place for co-offered energy solutions such as solar panels or wind turbines solutions, letting third parties utilise their platforms.
The Swedish bank SEB recently announced the establishment of Nordic KYC Utility Company, with its competitors Danske Bank, DNB Bank, Nordea Bank, Svenska Handelsbanken AB and Swedbank, to create an effective and cost-efficient platform to prevent money laundering,
All these are great examples of the business as an open platform onto which business partners, as well as competitors, are welcomed to participate and in which companies share critical data for improved customer experience and better business outcomes.
Are Alibaba and Amazon a direct threat?
Alibaba multiplying manufacturing sourcing options
The Chinese e-commerce brand Alibaba provides manufacturing sourcing options for businesses of all sizes and roles. It isn't involved in direct sales and does not own any warehouses like Amazon. You want to order twenty tons of organic fertilisers or granular activated carbon with very affordable prices? No problem! Alibaba enables you to interact with the supplier directly and provides information about the customer service levels of the supplier to build trust.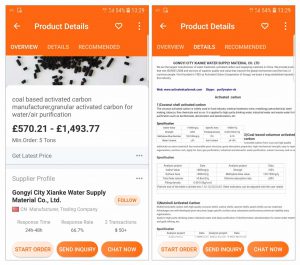 How big of a direct threat is Alibaba to European industrial manufacturers? As uninterrupted business operations are one of the main purchase drivers, we assume that only a small number of European companies take the risk of not having the same level of control of the product quality and the access to a local KAM organisation if troubleshooting is needed.
Differentiate on Amazon with direct-to-customer service
Today, Amazon is the go-to marketplace for European SME's with products weighing under 50 pounds. It is not yet the destination for the organic fertiliser or granular activated carbon orders. For the SME sellers, Amazon offers two concepts, Amazon Vendor Account and Amazon Seller Account. In the Vendor Account, suppliers distribute in bulk to Amazon, without having any control over retail prices. In the Seller Account, suppliers use the Amazon platform to promote and sell items directly to Amazon customer, with prices set by themselves. As suppliers are responsible for the customer service themselves, the Seller Account requires more resources. Investing in end-customer facing resources enables the suppliers to differentiate with a service and customer experience, which should lead to higher margins. Even on the global platforms, delivering attentive service to the end-customer is the key differentiator.
From "One platform, one brand" to "A ubiquitous brand"
Even if Amazon may not be a direct threat to European industrial manufacturing companies, it is an indirect one. Through their frictionless customer journeys, Amazon, Alibaba and other digital businesses impact B2B buyers' expectations on customer experience in the digital age. The concept "one platform, one brand" is becoming outdated. The new idea is "a ubiquitous brand" which operates on different platforms with different concepts, ranging from own platforms to partner platforms and global e-commerce platforms.
In the US, Amazon is growing its sales force and putting the teams in the field. With the new focus, Amazon has secured major public sector contracts. Amazon is also integrating with a number of the most common procurement software platforms utilised by corporate and institutional buyers. This enables business buyers to use their enterprise resource planning, or ERP systems , to manage the purchases on Amazon. Will Amazon one day be like Alibaba, also matching industrial manufacturers to end-customers, and becoming a direct threat to industrial B2B distributors? Maybe the right question is when it will be like Alibaba?
What if Open B2B Industry became the standard?
The idea behind Open Banking and the new EU directive PSD2 is radical and customer-centric. PSD2 makes banks' monopoly over their customer's account information disappear and puts the customer in the drivers' seat. PSD2 enables bank customers, both consumers and businesses, to use third-party providers to manage their finances based on the data made available by their bank.
What if in the future a B2B end-customer, who configures a suitable solution with a manufacturer brand X, could ask the manufacturer to transfer her pre-order data into the system of her preferred distributor? Could the transfer trigger a conditional manufacturing request or earmark the chosen products at the manufacturer's terminal? Should the end-customer be able to configure her shopping basket and replace some of the products with products of a competing brand, even if she started the journey with the brand X? What if…?
Is Open B2B Industry a viable option, or is it non-sense that leads to a complete mess? If it is true that the most customer-obsessed companies are the future winners, then Open B2B Industry is not the most foolish idea. Indeed, it puts the customer in the driver's seat.