Thank you for joining the Ross Republic podcast. In our thirty-fifth episode, your host Adrian Klee is joined by Andrew Vasko from Group Sella to discuss how Sella's open innovation strategy is creating a sustainable financial ecosystem.
Listen now on Spotify / Apple Podcasts. 
While ecosystem-based growth strategies can be found on many corporate strategy decks, only a fraction manages to successfully implement them. One outstanding benchmark in this regard is Group Sella, which has doubled down on operating various business lines that synergistically reinforce each other, with user-centric customer journeys built on data-driven insights at the core.
In this episode we speak to Andrew Vasko, who is the Group Chief Transformation Officer at Sella Group, covering topics such as:
Andrew's journey within the banking and insurance sector (incl. ING, MetLife, IntelliSure Group, NewDay and now at Sella Group), focusing on accelerating transformation and growth
Why big tech companies could become a competitor to financial services companies by leveraging their large customer base and data to provide radically improved financial offerings
How the competitive playing field is impacting bank's strategies, incentivising them to move from inward-focused innovation to open innovation and defining how to line up against embedded finance business models
How Group Sella is successfully implementing a self-reinforcing ecosystem approach built on a  data-driven bank
Becoming an open platform to successfully compete in the embedded finance era
Sella Group is an independent Italian company, with branches both in Italy and abroad, with a long-standing history and strong  drive for innovation. It's positioned as an open enterprise that is composed of companies operating in many diverse business lines, such as:
The main company of the group is Banca Sella S.p.A., an Italian bank based in Biella
Group Sella also operates a leading Italian e-com and POS payment provider Axerve
Hype, a neobanking app for managing money through a sleek app
In 2013 Sella  launched SellaLab, an innovation centre based in Milan, Salerno, Biella and Lecce, dedicated to start-ups and corporate businesses aiming to support open innovation and digital transformation processes
In 2017 Sella  launched Fabrick, starting as an open banking API platform that is now evolving into an embedded finance player
Sella also promotes  the Fintech District, the first Italian fintech ecosystem
Considering the list above doesn't even cover the full spectrum of all of Group Sella's activities, it might seem upon first impression that such an ecosystem approach could create huge operational complexity. However, behind all of these activities lies a clear business strategy that is grounded in becoming a data-driven bank, which focuses on the governance and use of data, together with the adoption of predictive models, to build the cornerstones of engagement, loyalty, relationships and increase in customer satisfaction: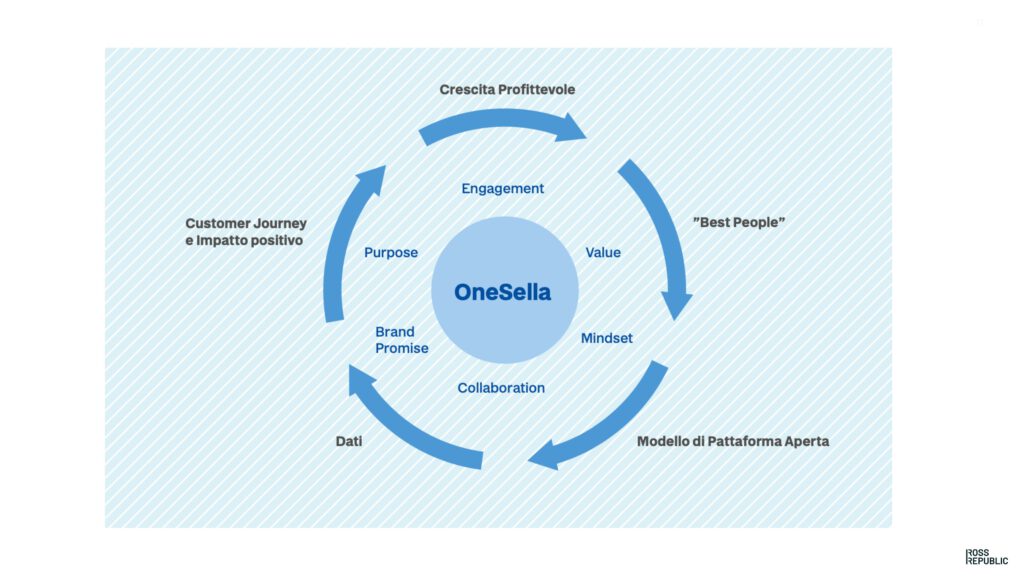 Sella Growth Flywheel. Source: Group Sella Annual Report 2022
As mentioned by Andrew a few times in the podcast, the ultimate goal is to create a positive customer impact.
"The only way forward is to open up and move into an ecosystem approach, where we decide what our core business is (customers, products, making life better) and partnering with companies that can do tech, and other products better, so it's moving from inward focused innovation to open innovation. This is the approach we took at our group, we even developed services we offer to our competitors."
Focusing on creating intelligent customer journeys is the key to having a positive impact on people. According to Group Sella's latest annual report, the transformation of the Group Sella service model has the objective of redesigning the customer journeys of the bank in order to improve the customer experience following a mobile-first approach, digitizing products and services in a mobile-first perspective, reducing manual and operational activities as much as possible as well as  improving efficiency and productivity.
It shows that the strong focus on creating best customer journeys and customer impact has paid off, as the Sella Group closed 2022 with impressive  results, including:
Net banking income increased by € 130.1 million (+17.9%) to € 857.9 million, net interest income increased by 42.6% to € 358.6 million
Strong growth in payment systems: total transacted volumes related to acquiring and issuing services increased by 29%, with an 18.8% increase in the net banking income to €120 million. These volumes are also the result of the increase in POS (+36%) and e-commerce (+11%) transactions
Revenues from new businesses rose by 3.6% to € 73.3 million, mainly due to open payment and platform services, corporate and investment banking and technology solutions provided to third-party companies
In the episode, Andrew shares his  insights on how the Group embarked on its data-driven ecosystem journey, both from a tech and business/strategy perspective, and now increasingly acts in a data-driven way to improve customer satisfaction.