We supported an internationally successful neobank with research, product and marketing strategy work to ensure a successful German market entry.
The client is a digital-first neobank that launched very successful retail banking services in its home market. Its services include credit, saving and card products as well as integrated reward and cashback programs. In order to grow the business, the client's management team decided to enter the European market, with Germany as its first beachhead growth market. 
After choosing a locally renowned Banking-as-a-Service provider as licensing and product partner, the client teamed up with Ross Republic to conduct user and market research, to create a winning product strategy and to define initial customer acquisition activities.
Challenge
In 2017, a large international bank got inspired by the success of European fintech companies, such as N26 and Revolut, and decided to launch a greenfield initiative with the aim to build a new cloud-based, digital-first banking offering. After launching its first digital banking products, the greenfield bank quickly attracted over 200.000 customers. Due to the strong traction in its home market, the leadership team decided to enter the European banking market. While the overall strategic direction was clear and the Banking-as-a-Service partner was chosen, the leadership team sought to get a more refined understanding of the German banking market to subsequently define its product and marketing approach.
Solution
Ross Republic provided an agile team of fintech experts that has built successful challenger banks in Europe (N26, Holvi, Finleap ventures) before. In order to ensure a successful German market launch, we focused on three key areas:
user and market insights
product proposition
launch marketing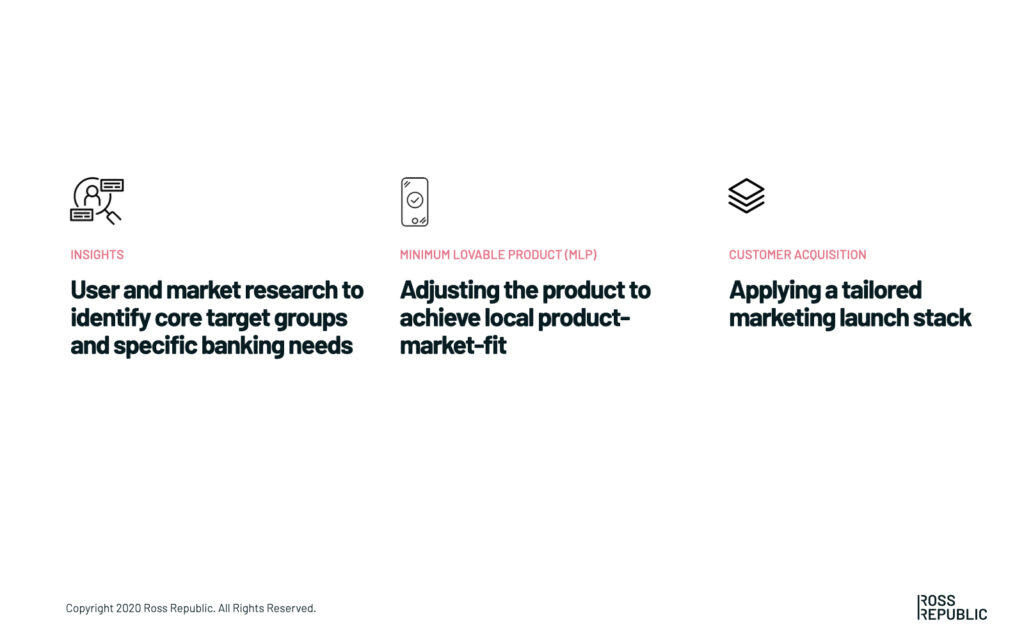 Three key opportunities to ensure a successful market launch
Understanding the local target market
The client enters new territory: new target groups, mind-sets, banking behaviours and needs in combination with a very competitive, saturated banking market. How to gain sufficient insights about the optimal target groups and local market nuances to adjust the product and marketing approach?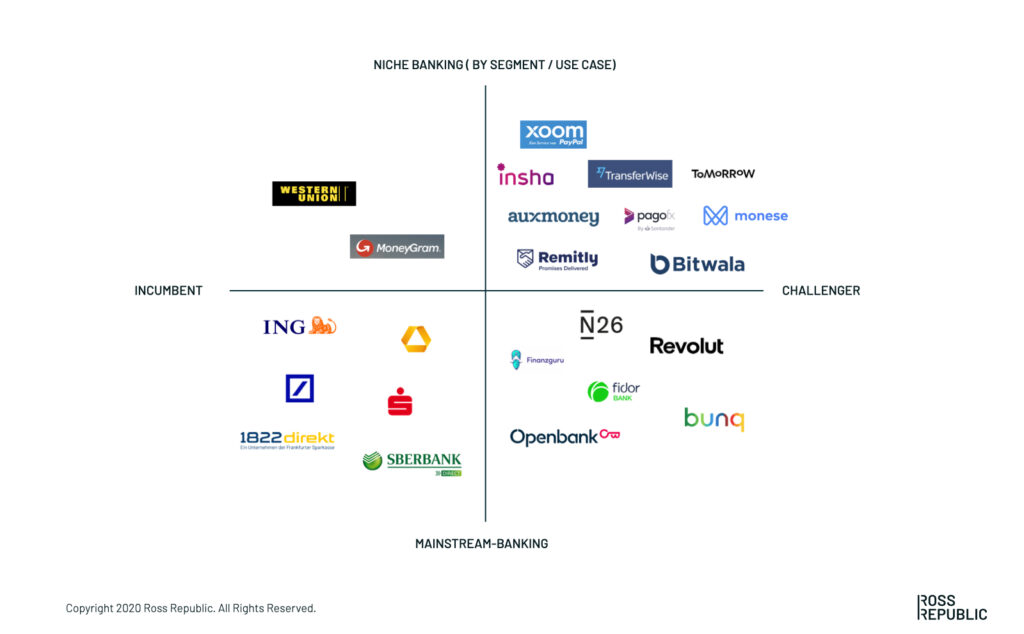 Current fintech challenger market snapshot
Key questions for the market entry:
What client segments can be served uniquely well?
Expats beachhead: What are the key banking needs, pain points and behaviours? Do they differ by sub-segments? How do they perceive the client's current offering and brand?
Next to expats, what other adjacent or underserved target groups could the client serve? How do their banking needs and expectations differ from expats from its home market?
Which needs of the chosen segments are not met by current providers, such as N26, Monese or Transferwise? What jobs-to-be-done could the client bundle to create a new blue ocean market opportunity?
After defining the target client segments, we conducted several user interviews, analysed the feedback and presented the research insights under the jobs-to-be-done framework.
Adjusting the product to local client demands and market dynamics
Digital banking is a hyper-competitive segment: New digital banks now compete against established challenger banks like N26, established local banks and other international entrants. How can the banking proposition be tailored to meet user needs better than current alternatives?
By building on the user and market insights, we held a virtual product strategy sprint to decide on the initial proposition to be launched in Germany and in cooperation with the Banking-as-a-Service partner.
Creating a winning marketing strategy
Banks and fintech players in Germany are spending a lot on customer acquisition. While the fintech players predominantly focus on digital performance marketing, comparison sites, referrals and partnerships, many incumbents offer account switching bonuses of up to 100€. How can the client stand out in a crowded market and reach its early adopters effectively?
Taking into account the user and market insights as well as the previous product decisions, we conducted a marketing strategy sprint to refine the client's marketing activities.
Deliverables
Insights session from Ross Republic' previous fintech learnings
User and market research
Product strategy sprint
Marketing strategy sprint
Impact
Our research formed the framework for a user-centric growth and product strategy across Germany and Europe.
We further adjusted the existing product for the German market by defining hygiene features vs. truly differentiating features for the chosen target groups. The product strategy sprint enabled the client to offer a high-growth entry product in combination with unique, monetizable features.
The marketing strategy sprint clarified how to win over early customers, such as recruiting test users and reaching out to narrow target segments during the beta phase. We further developed a roadmap for the launch phase that aimed to precisely target the beachhead customer segment to seed initial volumes and further refine our initial hypotheses for finding local product-market fit.